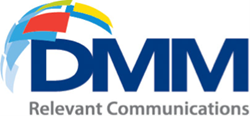 "This technology allows us to produce higher volumes of documents more quickly for a lower cost, providing more flexibility and faster time to market." John Cloutier, DMM, Inc. president and chief executive officer
Scarborough, Maine (PRWEB) March 17, 2016
DMM, Inc., one of New England's largest transactional print and direct mail solutions providers, announced that it has installed two Canon OCÉ VarioStream 8000 continuous feed printers at its Scarborough, Maine headquarters. The company is the first printer in Maine to make this technology available to clients.
These printers can produce four million images per day and up to 120 million letter impressions per month. DMM's investment will benefit clients who use high volume, highly relevant, business-critical and time sensitive print and direct mail, including companies in the healthcare, financial services and insurance industries.
"Our customers rely on us to deliver their highly personalized, confidential business-critical print and mail securely, quickly and affordably," said John Cloutier, DMM, Inc. president and chief executive officer. "This technology allows us to produce higher volumes of documents more quickly for a lower cost, providing more flexibility and faster time to market." Cloutier noted that the new presses expand DMM's growing digital print platform base to forty printers between their Scarborough and North Wales, PA facilities.
In addition to the increased production capacity, DMM has also acquired the Canon OCÉ PRISMA production software. This innovative software manages the platform of printers in order to improve cycle time, streamline digital workflow, and provide customer personalization and flexibility in document production.
About DMM, Inc.:
DMM, Inc. is a 32-year-old transactional document production and direct mail solutions company specializing in business-critical document output production, data-driven digital print on demand, transactional printing, direct mail production, and fulfillment distribution services. DMM brings innovative cutting-edge solutions with best-in-class technology to the financial, insurance, health care and insurance industries. DMM has received multiple industry awards including the Print On Demand (PODi) Initiative Best Practices in Digital Printing, the New England Direct Marketing Association (NEDMA) Award of Creative Excellence and the Printing Industries of New England (PINE) Award of Excellence. DMM, Inc. is headquartered in Scarborough, ME and has a second facility in North Wales, PA. For more information visit: http://www.thinkdmm.com.