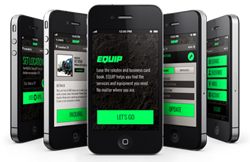 Our goal has never wavered, if we can get a user one job they would not have gotten, we succeeded.
Tulsa,OK (PRWEB) March 18, 2016
The Oil & Gas connection company EQUIP Advantage has seen a strong response to its new pricing structure. Not only adding several well known players to its sponsor options, but a large percentage of new subscribers to its yearly service. EQUIP Advantage is a service that allows companies in Oil & Gas industries to locate and hire services in the field by a website and as well as a mobile app.
Equip Advantage offers a variety of services at the touch of a button. From job listings to those needing to be hired and companies needing to hire, to classifieds for service, people in the Oil & Gas field may need, to the buying and selling of equipment. EQUIP also offers up to date rig count, oil and gas news, and prices across the industry at the touch of a button.
Their GPS enabled app allows listings to be shown by distance from the job site and all information needed to contact and hire. EQUIP is always looking to add new features to its platform and make work in the field faster and more efficient while not losing the quality of work needing to be done.
EQUIP Advantage already has 50+ categories to help streamline the search process and ensure the correct services our located. With users all over the United States EQUIP has established a large following and continues to listen to its users to find out how they want the service to evolve.