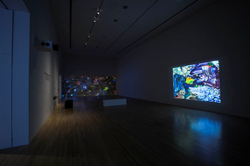 When encountering his vibrantly colored animations, people stop, slow down, and take time to watch them.
(PRWEB) March 22, 2016
Colorful paintings transform into mesmerizing video animations in the Indianapolis Museum of Art's exhibition, Jacco Olivier: Liquid Painting, Liquid Time, now on display in the June M. McCormack Forefront Galleries.
Liquid Painting, Liquid Time is Olivier's first solo exhibition in a major U.S. art museum. Although he works in the medium of video, Olivier views himself first and foremost as a painter. His unique artistic process combines the two mediums. The artist creates enthralling pieces that merge traditional painting techniques with photography and video animation. These painterly videos present a variety of subjects, from intimate scenes of daily life to captivating landscapes and abstract visions. Liquid Painting, Liquid Time showcases nine of Olivier's vibrant video animations, with some works featuring everyday sounds and musical accompaniment.
"What I find exceptional about Olivier's videos is how they immediately captivate," said Tricia Y. Paik, the IMA's curator of contemporary art. "When encountering his vibrantly colored animations, people stop, slow down, and take time to watch them. In the day of six-second videos and 140-character messages, such an experience is becoming more novel and I believe more needed than ever before."
Exhibition highlights include Revolution (2010), the largest video projection on view. Olivier has transformed colorful brushstrokes and daubs of paint into a sky filled with planets, shooting stars and distant galaxies. The video—which lasts 24 minutes—represents one day in the life of this imagined universe. In contrast, Rabbit Hole (2011) features a smaller, abstract world that propels the viewer into a dizzying tunnel of swirling color and shapes. Installed on the floor, the physical experience of looking downward to watch the video emphasizes the visual parallel of falling deep into the proverbial rabbit hole.
To create an intriguing dialogue between the old and the new, Paik and The Wood-Pulliam Senior Curator at the IMA, Ellen Lee, have included a late 19th-century painting from the IMA's collection, Farmyard at Le Pouldu (about 1892), by Dutch artist Jan Verkade.
"While inserting contemporary art within historical galleries has now become a popular practice in many museums, I thought it would be intriguing to do the reverse," said Paik. "Although there are great differences between these two Dutch artists, what is readily noticeable is the ongoing Dutch appreciation of the landscape. After experiencing Olivier's 21st-century videos of moving landscapes, I hope our audiences will be inspired to see other paintings in our collection by Olivier's artistic forebears."
Jacco Olivier: Liquid Painting, Liquid Time is included with general admission and free for IMA Members. The exhibition will run through Feb. 12, 2017.
About Jacco Olivier
Born in The Netherlands in 1972, Olivier studied at the Rijksakademie van beeldende kunsten, Amsterdam and Hogeschool voor Kunst en Vormgeving, Den Bosch, The Netherlands. Olivier has been featured in recent solo exhibitions at GEM, The Hague, The Netherlands (2014); Madison Square Park, New York (2011-12); Nederlands Instituut voor Mediakunst, Amsterdam, The Netherlands (2012); Centro de Arte de Caja de Burgos, Spain (2010-11); and Blaffer Art Museum, Houston, TX (2010), among others. He has been included in group exhibitions at various institutions, including Virginia Museum of Fine Arts, Richmond, VA (2015); Rijksmuseum Twenthe, Enschede, The Netherlands (2015); 56th Venice Biennale, Italy (2015); Villa Mondriaan, Winterswijk, The Netherlands (2014-15); 8th SITE Santa Fe biennial, NM (2010); and MCA Denver, CO (2006). The artist lives and works in Amsterdam and is represented by Marianne Boesky Gallery, New York, Victoria Miro Gallery, London and Galerie Ron Mandos, Amsterdam.
About the Indianapolis Museum of Art
The Indianapolis Museum of Art (IMA) is located on a 152-acre campus of lush gardens, historic homes, outdoor sculptures, inspiring performance and gallery spaces. Founded in 1883, the IMA is among the 10 oldest and 10 largest encyclopedic art museums in the United States and features significant collections of African, American, Asian, European, contemporary art and design arts that spans 5,000 years of history. With innovative programming to engage guests of all ages, the IMA offers a variety of interactive experiences inside the galleries, throughout the campus and within the local community. From gardening demos in the Madeline F. Elder Greenhouse to outdoor film screenings in the IMA Amphitheater to community celebrations in The Virginia B. Fairbanks Art & Nature Park: 100 Acres, guests are invited to engage with art and nature in exciting new ways at the IMA. Along with the Indianapolis campus, the IMA also owns the Miller House and Garden in Columbus, Ind., one of the nation's most highly regarded examples of mid-century Modernist residences. For more information visit http://www.imamuseum.org.
###