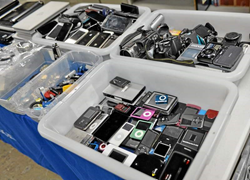 IDyourStuff, The difference between lost & found!
San Antonio, Texas (PRWEB) March 17, 2016
IDyourStuff, a loss-protection service company, seeking to be the nation's largest provider, announces a new recovery service that is free of charge to its customers anywhere in the U.S.A or Canada.
The new service includes their corporate, OEM, branded solutions, and their already popular consumer service through IDyourStuff.com.
The new free recovery service combined with its confidential method make it easy for recovering mobile assets (Smartphones, tablets, laptops). This new recovery service also includes lost keys. IDyourStuff through its partners offer the highest quality products available in its class.
Countless mobile electronics are lost each week during travel and end up in lost and found departments such as pictured.
"I believe most people actually prefer to return lost items to its rightful owner, but without proper information to accomplish the task, the vast majority of lost items never make it home. Most electronic items are locked with a pass-code, or the battery is dead. IDyourStuff solves this problem". said B.J Lawson, CEO.
"The beauty about IDyourStuff, is it safeguards the owners' identity and provides the proper information to facilitate the return with amazing efficiency even when the battery dies", said D. McCorvey, VP..
IDyourStuff was founded in 2006 and re-structured under Lawson-Brown LLC in 2015 is a Service Disabled Veteran Owned Small Business and based in San Antonio, TX. The company provides high quality recovery labels and tags coupled with its recovery process that makes it easy to return found items. The cost of their product pays for the entire service, with no hidden fees. IDyourStuff boast a greater than 90% return rate on lost items. For more information, visit http://www.IDyourStuff.com or call 888-558-2893 or email: contact(at)idyourstuff(dot)com.