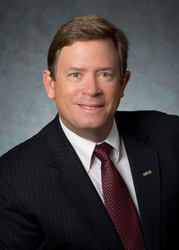 HNTB continues its active engagement and participation in key aviation industry conferences that serve to educate professionals about the latest trends and innovations that will impact airport professionals now and into the future
Salt Lake City (PRWEB) March 16, 2016
HNTB Corporation continued its aviation industry leadership and involvement at the 2016 Airport Consultants Council/American Association of Airport Executives Airport Planning, Design and Construction Symposium held in Salt Lake City. The conference and exhibition brings airport professionals of all disciplines and experience levels together to discuss the latest technical trends affecting the industry.
With more than 800 attendees, the conference was the best attended in its 22-year history with industry experts participating in planning, environmental issues, architecture, engineering, program management/construction management, security, information technology and airport operations.
HNTB leaders contributing to the symposium agenda included presentations by senior aviation planner Justin Bychek on "New FAA Focus Areas, RIM – the newest FAA program and how to successfully work through the process" and project architect Jennie Santoro on "Boomers to Zoomers: Passing the Torch to Generation Z!"
In addition, Laddie Irion, HNTB aviation market sector leader and senior vice president, was appointed to the board of the AAAE Corporate Committee.
As part of the program for aviation young professionals, Clint Laaser, HNTB project manager/terminal planner, was recognized as a top "40 under 40" in the Young Professionals forum.
"HNTB continues its active engagement and participation in key aviation industry conferences that serve to educate professionals about the latest trends and innovations that will impact airport professionals now and into the future," said Irion. "This symposium allows us to share our expertise and thought leadership with many of our top clients and industry colleagues."
HNTB's aviation contributions can be seen among some of the most complex and visible projects across the country, including the San Diego International Airport Green Build, which is the first LEED Platinum certified commercial airport in the world; San Francisco International Airport Air Traffic Control Tower design; the Tom Bradley International Terminal enhancements at Los Angeles International Airport; design of the Chicago Midway Airport Terminal Complex; and the Van Nuys Airport Runway Improvement project.
About HNTB
HNTB Corporation is an employee-owned infrastructure firm serving public and private owners and contractors. With more than a century of service in the United States, HNTB understands the life cycle of infrastructure and addresses clients' most complex technical, financial and operational challenges. Professionals nationwide deliver a full range of infrastructure-related services, including award-winning planning, design, program management and construction management. For more information, visit http://www.hntb.com.