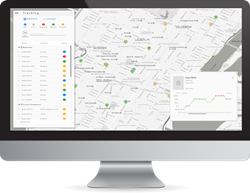 Atlanta, GA (PRWEB) March 18, 2016
ThingTech (http://www.thingtech.com) - an Atlanta, GA company announced today that it has been awarded the contract to implement their real time fleet, asset, and equipment tracking and monitoring solutions. Fulton County awarded the project to ThingTech after a rigorous and highly competitive request for proposal process.
The County required an intuitive and flexible automated asset location and telematics solutions for their fleet, heavy equipment, and non-powered assets. The County has varying fleet types, heavy equipment, and mobile assets that need to be tracked and managed in real time including: passenger trucks, heavy duty trucks, passenger cars, passenger SUV's, and various heavy equipment, trailers, power generators and mobile assets. The ThingTech tracIT™ product – powered by the ThingX Connect™ Platform - will provide real time location-based data, speed, idling, unsafe driving events, diagnostic trouble codes (DTC) and integration to the County's ESRI GIS mapping service.
In addition, data analytics and asset business intelligence tools and reports are critical aspects of the project. Based on the volume and variety of assets county-wide, ThingTech's predictive analytics and rules based alert engine allow for significant opportunity to optimize asset utilization, allocation, maintenance, and fleet right-sizing through data driven metrics. Power Take Off's, or PTO support, is a major component of the project. Vehicle and asset sensors will be installed for real time sensor data capture, utilization analysis and workflow automation. All data is based on real time location, events, alerts, and exception notifications. ESRI GIS integration will also be accomplished via real time RESTful framework via our ThingX Connect API™ Server.
"We are very excited about the opportunity to partner with Fulton County Government on this exciting project. Real time asset tracking, monitoring, and utilization data will provide tremendous value to Fulton County and will improve operations, field data collection, asset utilization, and accountability. Our ThingX Connect™ platform allows our customers to connect to multiple devices, sensors, and machines using multiple communication protocols. Big Data and predictive analytics provides tremendous insight into operations and allow our customers to make data driven decisions and optimize their assets in real time." says Tim Quinn, CEO of ThingTech.
Project is currently underway and estimated completion date for initial phase is May, 2016.
About ThingTech (http://www.thingtech.com)
ThingTech is located in Atlanta, GA with offices in Atlanta Tech Village. Our bright and energetic staff of software developers, consultants, and customer success staff strive to build usable, practical, and innovative solutions to improve businesses in the public and private sector who own, operate, manage, and maintain fleets, heavy equipment, assets, and a mobile workforce. ThingTech solutions combine Enterprise Asset Management, Field Service, Smarter Cities and Internet of Things (IoT) solutions into a single, cloud-based, connected platform for enterprise asset intelligence. Our customers rely on our solutions to track and optimize the performance of their mission critical assets and workforce to increase business performance and improve their customer's experience.