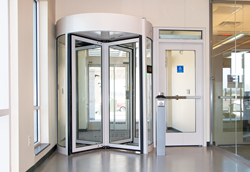 The Boon Edam entrance addresses our major concern about tailgating, we're pleased. Kevin Franzoni, Facility Manager, Martin's Famous Pastry Shoppe
Lillington, NC (PRWEB) March 16, 2016
Boon Edam Inc., a global leader in security entrances and architectural revolving doors, today announced that Martin's Famous Pastry Shoppe, Inc. has installed a Boon Edam Tourlock security revolving door at its new corporate office in Chambersburg, PA.
For the first time in nearly 30 years, all administrative departments, comprising 80 plus employees, of Martin's Famous Pastry Shoppe, Inc. ("Martin's") are located in one building, a new corporate headquarters recently built adjacent to the current bakery on 1000 Potato Roll Lane. This recent expansion is the 8th time Martin's has expanded its facility. The Phase 8 building project includes the following improvements:

A new corporate office, approximately 43,000 square feet
Approximately 145,000 square feet of warehouse space
Air conditioning in the new warehouse and bakery
Major site work creating new entrances and truck traffic flow on campus
An essential component of the newly-constructed building is the walking bridge that connects the corporate offices to the bakery. All employees will enter the bakery through the administration building using the new Boon Edam revolving door. This is a security and safety improvement, but it is also a cultural commitment that Martin's employees are working together to bake the best products and provide the best sales distribution support in a safe environment. The safety and security of the bakery premises is required by regulations that food production companies like Martin's must strictly adhere to.
The Martin's Facilities Department wanted the quality of its entrance to reflect the quality of the company and its excellent bread products. A Boon Edam Tourlock revolving door was chosen for the primary entrance to the building because it is secure using radio frequency identification and it has the all-important ability to reject tailgating attempts.
"Keeping food safety and general manufacturing processes in mind, we want to know who is on the bakery floor; security is part of the policy and something that is always top-of-mind," commented Kevin Franzoni, Facility Manager for Martin's. "We liked the Boon Edam door because the company specializes in these type of doors, and it requires RFID access to enter."
The new building opened in July and the entrance was installed at that time. The Human Resources Department provided training and orientation for employees on door operation. "The Boon Edam entrance addresses our major concern about tailgating, we're pleased." said Franzoni.
About Martin's Famous Pastry Shoppe
Martin's Famous Pastry Shoppe, Inc. is an all-American family owned and operated company headquartered in Chambersburg, Pennsylvania focused on baking great-tasting potato bread products using high-quality ingredients. Martin's dedication to excellence, quality, service, and family values are what truly sets them apart from their competitors. Martin's continually pursues a higher level of service and best practices in the baking industry. They have seen bread and roll production advance from hand production to the now state-of-the-art mechanical production. The recent construction project includes a major expansion of the bakery and warehousing space, as well as increased space and functionality for the transportation department. To learn more about Martin's Famous Potato Rolls and Bread, you can visit their website at: http://www.potatorolls.com.
For Further Information, Please Contact:
Tracie Thomas
Marketing Manager
T 910 814 8113
E tts(at)boonedam(dot)us
For Media Queries, Please Contact:
Bruce Doneff
Public Relations
T 843 476 3022
E doneff(at)verizon(dot)net
About Royal Boon Edam
With work environments becoming increasingly global and dynamic, the entry has become the center of activity in and around many buildings. As the importance of the entry as a mobility hotspot increases, the demands we put on managing the passage of people through them grow. Royal Boon Edam is a global market leader in entry solutions. Headquartered in the Netherlands, with 140 years of experience in engineering quality, we have gained extensive expertise in managing the movement of people through office buildings, airports, healthcare facilities, hotels and many other types of buildings. We are focused on providing an optimal experience for our clients and their clients. By working together with you, our client, we help determine the exact requirements for the mobility hotspot in and around your building and develop a solution that is customized for you in three key areas: sustainability, security and service. You can find more news about Boon Edam on http://www.boonedam.us/newsroom.