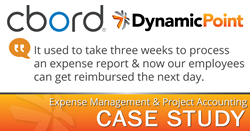 It used to take 3 weeks to process an expense report and now our employees can get reimbursed the next day. They also appreciate being able to track the status every step of the way.
Long Beach, CA (PRWEB) March 17, 2016
DynamicPoint, a Microsoft SharePoint developer of business automation solutions for Microsoft Dynamics, recently published a customer case study highlighting a tailored expense management, automation solution for an international cashless card system organization. Read the full case study: International Cashless Card System Provider Automates Expense Management and Project Accounting
"Our client was struggling to manage expenses for more than 400 employees that travel worldwide, but their real challenge was finding an affordable expense management solution that would also integrate with Microsoft Dynamics GP and their unique project accounting methods," reports Tiffany Allen, Senior Sales Account Executive for DynamicPoint.
After an in-depth analysis with the client, DynamicPoint consultants and technical specialists developed a solution that leveraged many of the out-of-the-box features of the company's configurable Expense Management solution built on the Microsoft SharePoint platform, with advanced customization's around the client's evolving set of project accounting requirements.
Additionally, the solution provided the ability to automatically track and invoice expenses back to a specific customer and project, which was a completely manual process before. With more than 250,000 projects in their Dynamics GP system, this functionality alone was a major advantage and time saver for the client.
The project successfully enabled the organization to integrate and leverage systems they were already using, with added functionality to trade paper expense management for real-time electronic expense submission, approval and processing. "The accounting staff is enjoying the automation immensely, and the employees really appreciate not having to tape all of their receipts and mail everything every week. What they really like though, is that now they are getting reimbursed the next day instead of the three weeks it used to take."
About DynamicPoint:
DynamicPoint develops products that leverage the Microsoft SharePoint platform to integrate and enhance return on investment in Microsoft Dynamics ERP and Microsoft Dynamics CRM systems. In addition to cost effective, out-of-the-box products for expense management, requisitioning and invoice automation, DynamicPoint also offers organizations the ability to customize a fully integrated solution to meet unique business and financial management requirements. The company's mission is to help customers maximize productivity, improve access to information, enhance communication and collaboration inside and outside the office, and to provide additional revenue opportunities within their marketplace.
Learn more about DynamicPoint: http://www.dynamicpoint.com
Press Contact:
Tiffany Allen
Senior Sales Account Executive
DynamicPoint
info(at)dynamicpiont(dot)com
844.396.7646