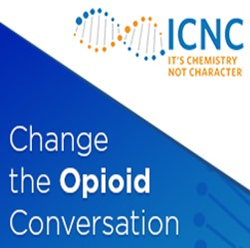 It's Chemistry Not Character
Washington, DC (PRWEB) March 21, 2016
It's Chemistry not Character, (#itschemnotchar), launches national campaign to change the conversation about opioid addiction and the stigma attached to it. According to leading medical authorities in this country, opioid dependence is a predisposed genetic disease not a moral failing. The CDC, (Centers for Disease Control and Prevention), has labeled the opioid crisis an epidemic. This opioid epidemic kills nearly 80 Americans each day, more than 85% of people in recovery relapse, and more than 2,500 12-17 year old adolescents in America try an opioid for the first time every day.
Since we launched our campaign thousands of opioid stories have been published by hundreds of local, state, regional and national media outlets. They include CNN, CBS "60 Minutes", HBO, ABC News "20-20", NBC Nightly News, and more. Our message is about changing the conversation and ending the stigma attached to opioid addiction. Daily posts and shares on all major social media networks including our official blog, Facebook, Twitter, Instagram, and Pinterest. This is the first video in a series being released over the next year. The people featured in the film are:

Kelly Clark, President Emeritus, The American Society of Addiction Medicine
Patrick Kennedy, Former US State Representative, (D-RI), Co-Author, "A Common Struggle"
Gary Mendell, CEO and Founder Shatterproof
Steven E. Chavoustie, MD
Andrea Barthwell, MD, Former Deputy Director for Demand Reduction, Office of National Drug Control Policy, Addiction Specialist
Matthew A. Torrington, MD, Addiction Medicine Specialist
Bobbi Cattanese, Founder and CE Links Advocate and Resources Center
Contact us to schedule an interview with any of the experts in our videos, to post the video on your website, or for additional information contact Vox Communications, LLC.
It's Chemistry Not Character is a community of people with opioid dependence and those who care about them – including family, friends and doctors. Join us here to change the conversation that currently takes place in society on opioid addiction so we can intelligently change the approach to fighting this national epidemic.