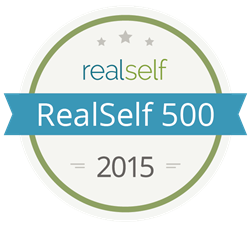 ...it is certainly an honor to be included in this diverse and prestigious group of physicians. - Parsa Mohebi, MD
Los Angeles, CA (PRWEB) March 16, 2016
Parsa Mohebi, founder of Parsa Mohebi Hair Restoration, was recently named to the prestigious 2015 RealSelf 500 list. The list recognizes a diverse group of medical professionals who, according to the website realself.com, provide "invaluable insight and expertise to those looking to make informed, confident choices around personal, highly considered health and beauty choices."
The RealSelf 500 list was awarded for the first time ever in 2015 and spotlights doctors who have made significant contributions to consumer education. According to RealSelf, these doctors had an impact on tens of millions of consumers with nearly 30% of their website content posted and shared by this group of physicians. RealSelf is an online community that allows patients to share information about all aspects of cosmetic surgery as well as interact directly with doctors.
Upon learning of this recognition, Dr. Mohebi said "it is certainly an honor to be included in this diverse and prestigious group of physicians. The ability to answer questions and interact on a one-on-one basis with actual patients on RealSelf allows me to directly communicate with those patients who have had a hair transplant procedure as well as consumers interested in learning more about the various options available to them. I appreciate the opportunity to correct any misinformation that is out there regarding hair transplant procedures."
With a hair restoration practice located in California, Dr. Mohebi went on to say "hair loss affects each individual patient in a different way. Being able to address patients directly helps them make informed decisions as well as allows me to see the questions and issues most commonly asked by existing and potential hair transplant patients."
About Dr. Parsa Mohebi:
As former chairman of the FUE Research Committee and creator of several methods and techniques in modern hair restoration, Dr. Mohebi, along with his incredible staff, provides the most advanced techniques in the industry. Dr. Mohebi prides himself in advancing new research and developing the latest technology to improve the quality of hair restoration. The overall goal at his office is to restore patient's self-esteem through the use of quality hair restoration techniques.