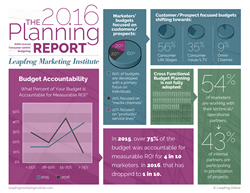 Despite the increased priority to measure the impact of their campaigns, CMOs have expressed a downward shift in accountability.
Evanston, Ill. (PRWEB) March 17, 2016
Chief marketers still find it hard to prove and measure ROI, according to a survey by the Leapfrog Marketing Institute, the research arm of Leapfrog Online.
The "2016 Planning Report – Evolving Strategic and Financial Plans for the Always-On Consumer" illustrates a surprising drop in accountability for marketing budgets. When marketers were asked to what degree their budgets must produce measurable ROI, only one in ten said 75 percent or more of their budget is accountable. This is a dramatic drop from 2015, when 40 percent of marketers stated they were planning to measure ROI at that top quartile.
"Despite the increased priority to measure the impact of their campaigns, CMOs have expressed a downward shift in accountability. Although there is a desire for every marketing dollar to be accountable, it is very hard to achieve that level of measurement," said Jason Wadler, executive vice president of Leapfrog Online and chair of the Leapfrog Marketing Institute. "In the Report, our Advisory Panel members share thoughts on what may driving this change, such as marketers' continued investment in social marketing where ROI is still unclear."
The 2016 Planning Report focuses on how marketing executives are evolving their strategic and financial plans to become more consumer-centric. The paper uncovers trends about marketers' overall priorities, the impact of digital and mobile on spending and how millennials influence budget planning.
Along with the survey data results gathered from senior marketing executives who are responsible for marketing budgets, the Planning Report also shares perspectives from Leapfrog Marketing Institute Advisory Panel members Tyrrell Schmidt, vice president, marketing at TD Bank Group; David Reibstein, professor of marketing at University of Pennsylvania's Wharton School of Business; and Roger Tye, Allstate's senior director of consumer engagement.
Another key focus area for the Planning Report is the level of collaboration between marketing and IT executives in strategic planning and budget development. Of note, 54 percent of marketers collaborated with internal partners in technology or operations functions, such as a CIO or CTO, to develop their plans. The majority participated in the planning process by prioritizing projects with their marketing colleagues.
"This is another surprising finding, given that the ability to prioritize and build consumer-centric approaches require a tight collaboration between these functions," said Wadler. "As a group, we expected this number to be higher; however, it aligns with data from our CMO Digital Benchmark Study last year. It is these insights that drove us to add CIOs onto our Advisory Panel this year."
For 2016, the Leapfrog Marketing Institute has expanded its Advisory Panel, which is comprised of senior-level marketers and professors, to include senior IT professionals. The expansion will help the Institute demonstrate how organizations can become more consumer-centric through a tighter cross-functional alignment of strategy, technology and data analytics. To date, CIOs from McDonald's and Allstate have joined the Advisory Panel.
MORE INFORMATION: To view the full study, visit http://www.leapfrogmarketinginstitute.com. To arrange an interview, contact Aaron Mays at the contact information listed above.
About the Leapfrog Marketing Institute
Leapfrog Marketing Institute is a virtual institute focused on nurturing thought leadership and commentary about digital marketing, with a specific focus on the mobile consumer and digital commerce. The Institute publishes white papers, research reports and insights, hosts workshops, panels, and roundtables for CMOs and industry influencers. Its research has been featured in AdAge, eMarketer, The Economist, and CIO Magazine. Leapfrog Marketing Institute is powered by Leapfrog Online, one of the largest digital marketing companies in the United States.
About Leapfrog Online
For 20 years, Leapfrog has led the industry in best practices related to the strategic use of consumer data, understanding the consumer journey and developing effective customer acquisition strategies that deliver business results. A data-driven approach and a culture of innovation allow us to deliver game-changing, scalable results for brand marketers. Founded in 1995, Leapfrog is based in Evanston, IL and employs more than 140 data scientists, software and systems engineers, media planners, analysts, and brand marketers.