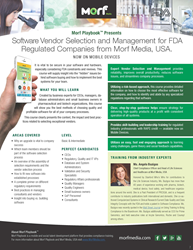 "The Morf Playbook course on Software Vendor Selection and Management supplies insight into the "hidden" issues behind software buying and how to implement the best systems for your team."
San Francisco, CA (PRWEB) March 17, 2016
Morf Media Inc. Releases Interactive Training on Best Practices for Every Phase of the Vendor Selection Process, Now on Mobile Devices and PCs
Morf Media Inc., developer of Morf Playbook™ talent development, skill-building and compliance training platform for use on mobile devices and PCs, today released an interactive course on Software Vendor Selection and Management for FDA regulated companies. The latest Morf Playbook course provides the best practices and procedures for the selection and management of vendors with a risk-based approach.
Every phase of the vendor selection process – from vendor selection and establishing preferred vendor programs, to study project reports, communication plans and project escalation—requires risk-based diligence to satisfy regulators. It's important to establish clear roles and responsibilities between clinical research organizations, vendors and the host sponsor in order to meet compliance and success.
"It's vital to be secure in your software and hardware, especially considering FDA constraints and reviews," said Angela Bazigos, chief compliance officer at Morf Media Inc. "The Morf Playbook course on Software Vendor Selection and Management supplies insight into the "hidden" issues behind software buying and how to implement the best systems for your team."
Created by business experts for CEOs, managers, database administrators and small business owners in pharmaceutical and biotech organizations, this course provides training on the best methods of choosing quality and profitable software for all of a company's processes. This Morf Playbook course on Software Vendor Selection and Management Training with a Risk-Based Approach clearly presents the context, the impact and best practices related to selecting exceptional vendors.
Topics covered include:

Why an upgrade is vital to company success
Which team members should be part of the software selection process
An overview of the assembly of selection requirements and the vendor selection process
How to fit new software into established processes
A complete primer on different regulatory requirements
Best practices in managing consultants and vendors • Insight into buying vs. building software
The Software Vendor Selection and Management course on Morf Playbook provides reliability, improves overall productivity, reduces software issues, and streamlines company processes. Utilizing a risk-based approach, this interactive course provides detailed information on how to choose the most effective software for the company, and how to identify and abide by any specialized regulations regarding that software. It offers clear, step-by-step guidance to help ensure a best practice approach to delivering high-quality products at a profit with consistent operation of all systems.
Morf Playbook provides a growing list of courses for 2016 FDA Compliance Training Series with certificates of completion for use toward continuing education units. The new courses include the following topics:
21 CFR Part 11
CAPA
Cosmetics - How Are They Regulated
Drug Discovery and Development - The FDA Way
Writing Effective SOPs
Excel Spreadsheet Validation for 21 CFR 11
HIPAA Best Practices
FDA Direct: Establishment Registration and Listing
FDA Direct: Overview of Regulatory Requirements for Medical Devices
FDA Direct: Risk Management & Drug Surveillance
FDA Inspection - Key Factors for a Successful Inspection
FDA Inspection – Food Facilities
FDA Inspections – 21 CFR 11 and Computer System Validation
FDA Inspections - Managing Inspection Outcomes
FDA Inspections - Managing Regulatory Risk
FDA Inspections - Organization Readiness
FDA Inspections - Program Overview
FDA Inspections - Quality System Readiness
FDA Quality Metrics – Latest Advances
Good Clinical Practices
Good Documentation Practices
Project Management for 21 CFR 11 & CSV
Key Factors for an FDA Inspection
European Data Protection Reform
The courses are individually available and are also available with the complete Morf Playbook training system. With its built-in authoring, reporting tools and analytics to measure an individual's progress, Morf Playbook provides a complete secure training delivery platform. It provides personalized recommendations for remediation, course progress and completion tracking, exam proficiency and certificates of achievement.
For more information about Morf Playbook Life Sciences and Healthcare courses , please contact sector specialist Natalia Glatcovschi: Tel: (925) 287-9424 or email natalia(at)morfmedia.com.
About Morf Media, Inc.
Morf Media, Inc. is shaping the future of enterprise talent development and compliance training with Morf Playbook™. The mobile platform provides one-to-one leadership, development, skill building and training on a smart phone, tablet or PC. Morf Playbook delivers interactive courses using a variety of media, including audiobooks and video. Its patented mobile framework offers an engaging way to empower people to perform at their best while providing individuals, team leaders and managers with reporting, metrics and communication tools to optimize talent and performance. Founded in 2013 by a seasoned management team, the company is based in San Francisco with offices in the Silicon Valley. For more information about Morf Media, please visit: http://www.morfmedia.com
Contact:
Natalia Glatcovschi
Morf Media Inc. Sector Specialist, Life Sciences and Healthcare
Tel: (925) 287-9424
natalia(at)morfmedia.com.
Heidi Wieland
Vice President Marketing of Morf Media, Inc. USA
805-722-7413
Heidi(at)morfmedia.com