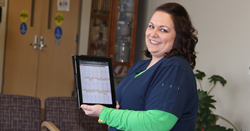 There are so many things I like about the Aladtec system. But primarily that it has made scheduling the nursing staff so easy.
Iowa City, IA (PRWEB) March 17, 2016
In order to provide the best quality of care for patients, using the latest technology is vital to clinics, hospitals and other healthcare facilities. However, on the administrative side, many organizations are slow to implement new technology that will improve processes and workflow. For example: scheduling staff with paper and pencil; filling shifts by making phone calls; using paper forms; tracking certifications and licensing on a spreadsheet; posting events on a whiteboard; and submitting a document for payroll that's difficult to decipher.
"We used paper to manually schedule our nurses; it was time consuming and extremely difficult to monitor. When our nurses would trade shifts or call in sick, I often didn't know which occurred - if the nurse who worked was trading or they were filling in for someone who was ill. Tracking what was happening was really tough," shares Sara Bruns, RN, BSN; Assistant Director of Nursing, Keokuk County Health Center, Sigourney, Iowa. "Plus, we need to keep the final schedule for CMS purposes which meant re-doing the final schedule after the fact so it was legible for others to view."
Bruns discovered their ambulance service was using Aladtec - an online system for scheduling and other admin processes - which was working out great for them. After seeing the system for herself she quickly determined it would be ideal for the Department of Nursing as well.
"There are so many things I like about the Aladtec system. But primarily that it has made scheduling the nursing staff so easy. At a glance, I can see who called in sick, who's on PTO and who traded shifts. No more confusion! I also like that they can put their vacation requests into the system and I can see far in advance when staff will be gone. Also, when they are trading shifts I am made aware of it by getting a notification through my phone so that I am immediately up-to-date on all changes and I can approve or deny the trade right away," indicates Bruns.
Aladtec also enabled this hospital to improve their process for alerting the trauma and decon teams. Previously these team members had to carry numeric pagers at all times. The staff found it very cumbersome having to carry both a cell phone and a pager. Now, they use their Aladtec system to send out a mass text to the appropriate staff when a patient comes in who needs to be decontaminated or when they need to activate the trauma team.
Aladtec Also Helps Healthcare Facilities With:
Managing Overtime - it's easy to see what shifts are overtime and manage labor accordingly
Reporting - any type of report can be run with the data in the system data, this helps reduce errors, adjust staffing needs, maintain accurate records and assist with payroll
Going More Green - Move all paper forms into Aladtec - create, submit, review and store any type of customized form through the "Form Configurator"
Reducing Liability - Track certifications, licensing, training, credentials and more
Improving Morale - Customers indicate job satisfaction and employee morale is improved after implementing Aladtec
Communicating Easier - Send messages and reach staff immediately through the Aladtec system - eliminating the need for pagers
Automating Processes - Many routine administrative tasks can be automated through the Aladtec system
Brun adds, "Aladtec has made scheduling our nursing staff so much easier and the nurses love that they can view their schedules right from their phones. We all love it and it has simplified my job which is worth it's weight in gold!"
About Keokuk County Health Center: Providing services since 1954, it's a progressive, county hospital dedicated to providing essential, compassionate, and high-quality medical services to the people in need of care. They offer Emergency, Inpatient and Outpatient health services for the residents in this rural community. The facility is located in Sigourney, about 60 miles from Iowa City.
About Aladtec: They proudly provide online employee scheduling and workforce management software to over 1,500 organizations. These customers count on Aladtec every day to help them save time and improve efficiency. For information about their affordable industry specific options, or to try a free trial, please visit http://www.aladtec.com.
###
Contact Information:
Aladtec, Inc.
906 Dominion Drive
Hudson, WI 54016-4538
(888) 749-5550 Toll-Free
(715) 690-2300 Phone
(801) 406-5550 Fax
mellissa(at)aladtec(dot)com
info(at)aladtec(dot)com http://www.aladtec.com