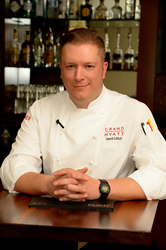 Denver, CO (PRWEB) March 23, 2016
Grand Hyatt Denver Executive Chef John Treusein announces the appointment of David Lillich as Chef de Cuisine of Pub 17 on Welton Street.
Chef Lillich joined the Grand Hyatt Denver culinary team in 2013, and was promoted quickly to Junior Sous Chef of the hotel's restaurant, Pub 17. During his tenure as Junior Sous Chef, Lillich oversaw the daily execution of both breakfast and lunch buffets, with a strong emphasis on quality and creativity for the buffet's offerings.
In October of 2014, he was promoted to the position of Garde Manger Sous Chef of the 4-Diamond Grand Hyatt Denver banquet kitchen. In this dynamic and challenging role, Chef Lillich enjoyed the opportunity to hone his skills in creating original salads, dressings, and canapés, with a focus on further enhancing the artisan cheese and charcuterie program.
Chef Lillich began his culinary career in Northwestern Arkansas, at venues well-known in the region for their local flavor and gourmet offerings.
Chef Lillich hails from Siloam Springs, Arkansas, now residing in Denver with his wife.
About Pub 17 on Welton Street
Located just off of the corner of 17th Street on Welton, Pub 17, a Sunset Magazine Editor's Pick, captures the mood and flavor of the Mile High City by providing neighborhood micro brews, regional wines and high plains culinary fare. Pub 17's approach to dining meshes with the Hyatt global philosophy focused on sourcing and providing healthy food and beverage options that support the local community and that are good for the planet. Driven by insights and in-depth research Food. Thoughtfully Sourced. Carefully Served. is a key component of the health and wellness pillar of Hyatt Thrive, Hyatt's global corporate responsibility platform designed to enable thriving communities.
Textural lighting casts a welcoming glow over Pub 17, a room filled with custom art and stacked mirrors reflecting the city surroundings. This is clearly evident in a barrel from the local distillery, Stranahan's, which carves out the Denver skyline, adorning the wall as a reminder that some of the best beverages made originate right here in Colorado. Seating at Pub 17 is deep and restful, the soft hues an easy backdrop for conversation; ideal for closing a deal or celebrating a victory.
Pub 17 on Welton Street offers three meals daily from 6:00AM – 11:30PM. Discounts on appetizers and beverages are available during Happy Hour from 3:00PM – 6:00PM. Large parties can be accommodated quickly and easily by calling (303) 295-1117. Reservations for Pub 17 may be made by calling (303) 295-1117 or by visiting Opentable.com. Parking is complimentary for dinner guests.
For more information on Pub 17 on Welton Street, including a list of interesting Colorado Beer Facts, visit http://www.Pub17Denver.com.
# # # #