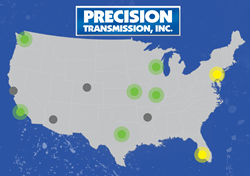 "This move is customer driven. Our large fleet customers and OEMs have been increasingly asking us for national coverage." Craig Parsons
Sun Prairie, WI (PRWEB) April 18, 2016
Palmer Johnson Power Systems (PJ), an off-highway powertrain and aerial equipment service organization, has formed a strategic partnership with Precision Transmission, headquartered out of Colmar, PA. This partnership offers each company growth, primarily through expanded nationwide coverage of the off-highway industry with the products and services each provides. With the exception of the Twin Disc Product line, Palmer Johnson will now have coast-to-coast service coverage on all other products.
Nationwide service coverage is something Palmer Johnson's President, Craig Parsons, has long sought after. "This move is customer driven. Our large fleet customers and OEMs have been increasingly asking us for national coverage."
In June of 2015, Palmer Johnson expanded service coverage into the Northwest through acquisition of Bowers Transmission in Kent, WA. "Once we completed the Bowers acquisition this conversation began to happen even more regularly. We needed a partner that shared our passion, culture and standard of excellence to take us to the east coast. Precision Transmission, with branches in Pennsylvania and Ft. Myers, FL, was a natural fit. Precision has an excellent reputation in the industry for service and believes in partnering with their vendors and customers just like we do," Parsons went on to say.
Palmer Johnson and Precision have been in discussions since becoming fellow ZF Off-Highway distributor partners in 2005 on how they could strategically work together to strengthen both companies. "This partnership will fulfill our commitment to our customers which is to offer them excellent service across the US. It will leverage our inventory as well as Precision's making it available to customers across all time zones."
###
Palmer Johnson Power Systems, is a rapidly growing service organization and a leader in the powertrain service industry. Over the last 39 years, PJPS has built a business around strategic partnerships with many of the key off-highway transmission and axle manufacturers. PJPS continues to seek out expansion and better coverage for its customers. For more information please contact Matt Ellsworth at 608.834.5215 or send an email to: mellsworth(at)pjpower(dot)com. Also, visit http://www.pjpower.com for information on Palmer Johnson's services.