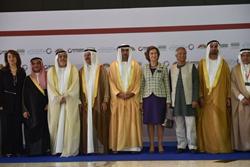 Together we can make a world where everyone has access to the financial services that help them mitigate their risks, take advantage of opportunities and build assets for the future, where human beings fulfill their potential in solving human problems
Abu Dhabi, UAE (PRWEB) March 17, 2016
The 18th Microcredit Summit concluded on Wednesday in the capital under the patronage of His Highness Sheikh Hazza bin Zayed Al Nahyan, Vice Chairman of the Abu Dhabi Executive Council.
Organised by the Microcredit Summit Campaign in partnership with Khalifa Fund for Enterprise Development and the Arab Gulf Programme for Development (AGFUND) the Summit gathered 1000 global policy makers, central bank managers, and microfinance experts to explore and discuss innovative financial inclusion strategies that can create clear pathways to economic and social inclusion. High-level dignitaries attending the Summit included H.M. Queen Sofia of Spain, Prince Abdulaziz bin Talal bin Abdulaziz Al Saud, UAE Minister of Economy H.E. Sultan Bin Saeed Al Mansouri, Arab Monetary Fund Director General Chairman H.E Dr. Abdulrahman A. Al Hamidy, and 2006 Nobel Peace Prize laureate Mohammed Yunus.
The delegates recognized the importance of microfinance and financial inclusion in contributing to a balanced distribution of development growth, poverty alleviation, reduction in unemployment, social welfare, empowerment of women as well as its contribution to other economic benefits that enhance the pillars of a sustainable economy.
At the closing ceremony, the summit partners committed to a declaration that supports the success of the Universal Financial Access 2020 goal, the World Bank 2030 goals, and the U.N. Global Goals.
Larry Reed, director of the Microcredit Summit Campaign, recommended a focused and collaborative approach among governments, regulators, businesses, financial institutions, and citizens towards building strong, stable financial systems for the most marginalized segments of society.
Reed said: "We accomplish this when we understand that we cannot achieve our potential as nations or a global community as long as we exclude people from basic services. Together we can make a world where everyone has access to the financial services that help them mitigate their risks, take advantage of opportunities and build assets for the future, where human beings fulfill their potential in solving human problems."
H.E. Abdullah S. Al Darmaki, CEO of Khalifa Fund commented on the declaration that aims to devise financial instruments and programs that support targeted efforts to reduce poverty and promote social. Nasser Bakr al-Kahtani, CEO of AGFUND, reaffirmed AGFUND's commitment to execute the declaration with the support of high level decision makers, executives, and leaders.
Abu Dhabi Declaration on Economic Empowerment and Social Inclusion includes:
Work with governments and regulators to develop national financial inclusion strategies that:

Utilize digital technology to build a national payments system that can reach everyone at low cost
Create space for specialized financial institutions that provide a broad range of financial services that include saving to micro, small and medium businesses owners.
Build financial systems that include a package of diverse and integrated services geared for low-income people
Develop legislation and incentives to encourage banks and financial institutions to adopt clear policies and strategies to increase the share of micro-projects of the total loan portfolio
Expand financial literacy/education so that people can use financial products in a way that improves their lives and helps them build assets
Developing innovative financial options for entrepreneurs through:

Extending agricultural value chains to reach small scale farmers, especially in the rural areas.
Linking government social payments to financial systems in a way that expands financial inclusion
Creating graduation pathways from social payments and basic livelihoods to micro, small and medium sized businesses
Increasing the financial access for Micro, Small, Medium Enterprises (MSME's)
Creating partnerships between sectors and institutions that link increased financial inclusion to greater social inclusion, including:

Expanding access to health financing, health insurance, and health education
Expanding training and access for women
Creating employment opportunities for all those who can work, especially youth
Providing financial services for the older people and people with disability.
###
The Microcredit Summit Campaign (the "Campaign"), a project of RESULTS Educational Fund, is a global network of institutions and individuals involved in microfinance and is committed to expanding microfinance to the world's poorest families and helping them lift themselves out of extreme poverty. The Campaign convenes a broad array of actors involved with microfinance to promote best practices in the field, to stimulate the exchange of knowledge and to work towards alleviating world poverty through microfinance.