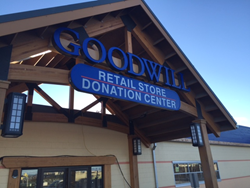 ROCKVILLE, MD (PRWEB) March 17, 2016
Thursday, March 17 at 8 a.m. marks the grand opening of Goodwill Industries of Alaska's new retail store and donation center at 3838 Old Seward Highway. With its opening, Goodwill now has a presence in all 50 states. The grand opening kickoff will feature extended store hours and opportunities to win Goodwill gift certificates. There will also be a ribbon-cutting ceremony with Anchorage Mayor Ethan Berkowitz; the Anchorage Chamber of Commerce; Jim Martin, president and CEO of Goodwill Industries of Alaska; and Jim Gibbons, president and CEO of Goodwill Industries International. Goodwill Industries of Alaska previously opened a Job Connections center in Anchorage in 2014 providing mission-based services to the local community. The opening of the Old Seward Highway retail store marks the first time that Goodwill's well-known donation collection and retail services as well as employment opportunities will be available in the state.
"For the last two years, the Goodwill Job Connections program has been a resource for Anchorage residents looking for work. I'm proud of the hard work that went into Goodwill's expansion to midtown," said Jim Martin, president and CEO of Goodwill Industries of Alaska. "Its new retail location serves as a training facility for individuals with barriers to employment and also provides 32 full-time jobs with benefits."
As part of the opening ceremony, Wells Fargo will present a check in the amount of $48,500 to Goodwill Industries of Alaska as part of a one-year grant to fund transitional services to help veterans return to the civilian workforce. Goodwill will use the grant funding to conduct veteran outreach events, provide employment-related workshops and placement opportunities to veterans, and assist veterans with enrolling in educational benefits and other resources.
"As a result of the Anchorage store opening, there will be 40 jobs created in the community," said Jim Gibbons, president and CEO of Goodwill Industries International. "Goodwill's retail locations are the genesis of job creation in communities. We're incredibly pleased to introduce a sustainable retail center to the Anchorage community, which means that we are now proudly serving communities in every state in the union."
Donations to Goodwill not only help the environment, they also make a positive impact on communities and families by supporting Goodwill career services. Eighty-four percent of the collective revenue from the sale of donated goods supports and grows Goodwill's critical community-based programs and services across the United States and Canada.
In addition to clothing, books, shoes, housewares and more, the Goodwill store will also house a Job Connections program, which serves people who are unemployed or underemployed who are interested in obtaining or upgrading their employment. Job Connections is a free service that provides one-on-one résumé assistance, interview skills coaching, and referrals to local employers based on employment goals, experience and skills.
For more information on the Anchorage Goodwill retail store and donation center, visit: http://goodwill-alaska.org/ or follow them on Facebook at: https://www.facebook.com/Goodwill.Alaska/
About Goodwill Industries International
Goodwill Industries International is a network of 164 community-based organizations in the United States and Canada with a presence in 13 other countries. Goodwill is one of America's top 20 most inspiring companies (Forbes, 2014). Goodwill organizations are innovative and sustainable social enterprises that fund job training programs, employment placement services and other community-based programs by selling donated clothing and household items in more than 3,000 stores and online at shopgoodwill.com®. Local Goodwill organizations also build revenue and create jobs by contracting with businesses and government to provide a wide range of commercial services, including packaging and assembly, food services preparation, and document imaging and shredding. Last year, more than 426,000 people in the United States and Canada used Goodwill's intensive one-on-one career services to prepare for employment. In addition, more than 24 million people used computers and mobile devices to access Goodwill education, training, mentoring and online learning services to strengthen their skills. To learn more, visit goodwill.org.
For more information or to find a Goodwill location near you, use the online locator at Goodwill.org or call (800) GOODWILL. Follow us on Twitter: @GoodwillIntl and @GoodwillCapHill, and find us on Facebook: GoodwillIntl.