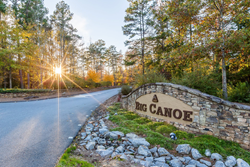 Big Canoe Ownership soon to be in the hands of the POA
Atlanta, Georgia (PRWEB) March 18, 2016
There is big news from Big Canoe, perhaps best place to live in Georgia, a place for those who appreciate authentic mountain living. The Property Owners Association (POA) has approved the purchase of 51 parcels of land, comprising 730 undeveloped acres. The POA voted by a 73% majority to purchase the land from the community's developer for $9.4 million, which upon closing will put any remaining undeveloped land in the hands of the community. While many of the parcels are small and scattered throughout Big Canoe, there are several sizable lots designated for commercial or high density use.
Some of the prominent parcels included in this Big Canoe real estate transaction are:
1. The Village Core, including the Big Canoe Realty Building, The Chimneys, and the former home of the Wild Onion Grille = 8.1 acres
2. Sconti Point, the land to the right of Lake Sconti looking from the clubhouse designated "high density" = 8.2 acres
3. Land on the north and east side of Wilderness Parkway and east of Wolf Scratch Drive starting at the Main Gate and extending to The Clubhouse entrance, much of which is designated "high density," = 119 acres
4. Land near the North Gate designated "commercial" = 13.48 acres
5. Mountainous land in the High Gap Area = 350 acres
6. Land on the Northwest Corner of the Steve Tate Hwy. roundabout designated commercial = 14.4 acres
Many Big Canoe real estate owners see this as a once-in-a-lifetime opportunity, to take control of their land and continue to protect and develop what they consider to be the best place to live in Georgia. While plans have yet to be announced after the acquisition, rest assured that the POA will have wonderful ideas for improving the community. Sweetening the deal is the fact that the POA can obtain a 3.29 percent loan to finance the purchase, and eliminate two existing 6.9 percent loans. The Developer, Big Canoe Company, will continue to be an active and supportive part of the community. Operating through Big Canoe Building Group and Big Canoe Realty, they will continue to build new homes and specs on the remaining 120 lots that they own, as well as continue to be the only real estate agency selling Big Canoe property exclusively. Big Canoe Realty will remain in their current office building in The Village, renting the space from the POA.
Folks have never been to Big Canoe will find there are many reasons why residents consider it the best place to live in Georgia. Apart from the Georgia mountain properties in a park-like setting, owners of Big Canoe real estate have access first-class amenities without expensive membership fees. Within its gates, Big Canoe offers more than 20 miles of hiking trails, with 3 waterfalls, 3 fresh water lakes, and spectacular mountain views. Residents enjoy hiking, boating, swimming, fishing, and a number of other activities. Amenities at Big Canoe include:
27 holes of championship golf on three 9-hole mountain courses
Two indoor tennis courts, 4 outdoor hard courts, and 4 outdoor clay courts
Swim Club with a 110,000 gallon outdoor pool, paddle boats, paddle boards, canoes and kayaks
A private marina with electric-powered boats for rent
A 17,000 sq. ft. fitness center with free weights, cardio machines, racquetball and squash
An exclusive Spa for massage, hot stone treatment, or reflexology
22 miles of award winning hiking trails
Fine dining at Mountains Grill at The Clubhouse on Lake Sconti
Cold beer and spirits at lodge-style Black Bear Pub, and Sunset Veranda
With so much going on at Big Canoe, this property acquisition makes perfect sense for everyone in the community. The land can be used to conserve and improve one of the best Georgia mountain properties.
For folks who are interested in Georgia mountain properties, Big Canoe is a place they'll want to experience for themselves. Just 1 hour from Atlanta, the gated mountain community is the perfect place for golf, boating, strolling through nature, and living an active lifestyle in the north Georgia Mountains.
Call Big Canoe directly at 866-244-2266 to schedule a tour.
About Real Estate Scorecard:
Real Estate Scorecard writes unbiased real estate reviews providing in-depth information about popular gated communities in Florida, Georgia, the Carolinas, Tennessee and Central America, all in an effort to help people discover where to retire in the South.
Website: http://realestatescorecard.com