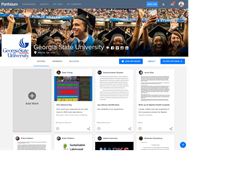 ...We have struggled to scale effective career preparation across our study body. Now, we're using Portfolium to help.
San Diego, CA (PRWEB) March 17, 2016
"With 50,000 students and one of the largest populations of low-income students in the country, we have struggled to scale effective career preparation across our study body. Now, we're using Portfolium to help. We're employing analytics to link students to careers that match their individual abilities and Portfolium as a platform for students to document their career readiness at scale," said Dr. Timothy Renick - Vice Provost and VP for Enrollment Management and Student Success.
Dr. Renick, recipient of the National Award for Student Success Innovation and Collaboration from the University Innovation Alliance, is one of many higher ed innovators turning to Portfolium's competency-based matching to make the job market work better for college graduates, including students with diverse backgrounds.
According to SHRM, "Competency-based selection favors diversity. By focusing on behavior, competency-based selection can ensure that people of all ages and backgrounds receive consideration, regardless of the length of their formal experience or other factors."
"At Portfolium, we imagine a world where everyone's work can speak for itself, and where competencies take center stage in the career journey, pushing aside the relevance of someone's hometown, last name, or social connections," said Portfolium's founder & CEO, Adam Markowitz.
About Portfolium
Portfolium partners with colleges & universities to help students transform learning into opportunity. Our ePortfolio network helps 5M+ students and alumni from over 150 partner institutions manage their skills and launch their careers. Portfolium's cloud-based platform empowers students with lifelong opportunities to capture, curate, and convert skills into job offers, while giving learning institutions and employers the tools they need to assess competencies and recruit talent.
About Georgia State University
As the only urban research university in Georgia, Georgia State University offers educational opportunities for traditional and nontraditional students at both the graduate and undergraduate levels by blending the best of theoretical and applied inquiry, scholarly and professional pursuits, and scientific and artistic expression.
As an urban research university with strong disciplinary-based departments and a wide array of problem-oriented interdisciplinary programs, the goal of the university is to develop, transmit, and utilize knowledge in order to provide access to quality education for diverse groups of students, to educate leaders for the State of Georgia and the nation, and to prepare citizens for lifelong learning in a global society.