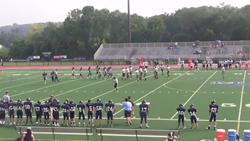 Hillsdale, MI (PRWEB) March 17, 2016
Manheim Township High School Football and Track student athletes will soon enjoy 50 foot candles of light and superior light uniformity illuminating their football field, while also providing the ability to light the track for competitions. With 96 Universal Series 1500 Watt fixtures, including visors to further reduce "spill light", Qualite was able to provide additional enhanced technology to allow for energy-saving dimming capabilities. School officials have the ability to select 2 levels of light for practice, and another 100% illumination level for competition.
Along with replacing the 30 year old lighting system, the project also includes international cell company antennas supported on 3 of the steel poles. In addition, LED emergency lighting with battery back-up allows for the safest possible environment. Dan Leahy, Qualite Sales Manager comments, "This has been a special project with enhanced features to meet all expectations while providing an excellent experience for everyone. It is satisfying to provide a lighting system which is sensitive to community needs by reducing spill light, meets light levels for a greater experience for fans and athletes, while also meeting budget considerations for the district.
About Qualite Sports Lighting
Qualite has been the Sports Lighting Partner for High Schools, Colleges, Parks and Recreation Departments, and Minor and Major League Professional Sports Franchises for over 30 years. In addition, Qualite has partnered with an LED Manufacturer to provide the highest quality LED Lighting Systems for sports facilities including retrofits and new construction for University of Phoenix, Minnesota Vikings, High School Stadiums, College Facilities and Park & Rec Fields across the US. Qualite's Q-LED System is the most Energy-Efficient, Highest Lumen Output LED Lighting Solution in the Sports Lighting Industry.