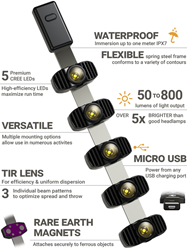 We love the crowdfunding model because there are millions of tech savvy people who love to support a great idea on Kickstarter.
Salt Lake City, UT (PRWEB) March 17, 2016
The creators of ZyntonyRa, the most unique light on Kickstarter, are breathing rarefied air and it has nothing to do with living in the mountains of Utah. They have come out of retirement to create a hit product in the crowdfunding world raising over a quarter-of-a-million with their Ra straplight.
Designed to light up an entire area rather than just a single spot, Ra is an innovative light for outdoor adventurists that over 2,200 backers have supported so far. It's a stunning success considering the co-founders come from the senior ranks of the traditional corporate world and have quickly become self-taught social marketing gurus in crowdfunding - where millennials usually rule.
"After a nearly three decade career rising to the top of the corporate world, I retired and had the romantic notion of being a ski bum. But, I just had too many ideas running through my head to stop innovating," said Zyntony CEO Rob Urry. "We love the crowdfunding model because there are millions of tech savvy people who love to support a great idea on Kickstarter." Zyntony VP of Business Development Richard Burnett added: "We talked to a number of people who had run successful campaigns, then we worked hard to master the platform, and now we are in the top half of 1% of all campaigns in Kickstarter history."
A single Ra produces 800 lumens of warm natural light. A pair of Ra's attached to the shoulder straps of a backpack, light up the night creating a 1600-lumen zone of daylight around the wearer. Brighter than ten headlamps, Ra was named after the Egyptian god who carries the sun across the sky.
With multiple mounting options, Ra can be attached to almost anything. The user can fix it to any ferrous (metal containing iron) object using the built in rare earth magnets. Ra can be attached to nearly any article of clothing using the accompanying magnetic backer strip. Using the D-ring strap and simple hook and loop ties, Ra can be fastened to virtually any piece of gear.
Ra is powered via its micro-USB input. Zyntony makes four different sizes of battery packs allowing the flexibility to carry as much power as needed.
Additional features include:

Waterproof
High efficiency LEDs maximize run time
Individual beam patterns to optimize spread and throw
Flexible spring steel frame conforms to a variety of contours
Over five times brighter than an average headlamp
Designed to work with Zyntony BatPaks (high energy density power battery packs)
ZyntonyRa start at only $58 on Kickstarter. For more information, and to pre-order ZyntonyRa visit: https://www.kickstarter.com/projects/zyntony/ra-worlds-first-strap-light
About Zyntony, Inc.
Zyntony, Inc. is a technology company innovating the way we use sustainable energy in our homes and in the great outdoors. The company specializes in products that enhance your outdoor adventures. The Zyntony team is comprised of a seasoned group of high-tech industry veterans with combined product development, marketing and sales experience of over 150 years. The team collectively holds more than 40 U.S. Patents and have designed, managed, and put into production more than 400 products in high-tech industries. Light up the world with ZyntonyRa.