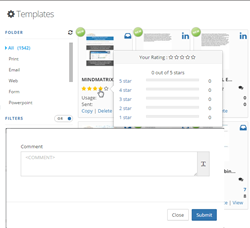 The asset rating feature is a testimony to Mindmatrix's commitment towards sales and marketing alignment.
Pittsburgh, PA. (PRWEB) March 18, 2016
Mindmatrix users can now rate the sales and marketing assets created in the Mindmatrix platform. This new feature adds a new level of enablement and effectiveness in the asset creation feature. The Mindmatrix collateral module allows companies to build powerful sales and marketing collateral including landing pages, social media and email campaigns, sales presentations, etc., at the corporate level and then share them with their channel partners and salespeople. This new rating feature helps companies track the performance and effectiveness of their sales and marketing assets. After they use an asset, the salespeople and channel partners are prompted to rate the assets on a scale of 1 to 5, lowest to highest.
This asset rating system is a new method to get immediate feedback about the asset from the user's perspective. The development team at Mindmatrix believes this enhancement is the answer to questions like--Did the salespeople like the look and feel of the template? Was it easy to locate and customize? Did it really meet the needs of the prospect at a particular step in the sales cycle? Rating the assets is simple and only takes a click. This feature will help marketing teams get a clear idea of what the sales channels like and don't like, which in turn helps corporate marketing departments design and deliver materials that are more effective and will actually be used.
Harbinder Khera, CEO, Mindmatrix says, "It is a known fact that more than 90% of collateral generated by marketing for sales is not found useful by the salespeople. They either virtually trash it all together by not using it at all, or try to edit them to suit their needs, which often leads to damaged brand standards. The focus at Mindmatrix, right from the start, has been to minimize this sales-marketing discord. Our first product, Vision, released 18 years ago introduced template-based marketing and sales collateral creation. Today, even as the Mindmatrix platform has grown to be bigger and better, encompassing a lot more than collateral creation, this addition of the asset rating feature is a testimony that we have not lost track of our primary goal--complete sales and marketing alignment. "