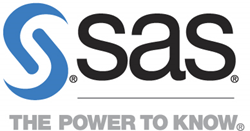 Cary, NC (PRWEB) March 17, 2016
A record crowd of analytics enthusiasts from more than 40 countries will throng The Venetian Las Vegas for SAS® Global Forum, April 18-21. More than 5,000 business and IT professionals won't miss a trick as they – and tens of thousands virtual participants – explore the latest tech trends and innovations at the world's premier advanced analytics conference.
With more than 600 sessions, attendees can configure an agenda that's a winning combination for their unique jobs and skill levels. This year's theme – "Imagine. Create. Innovate." – will pervade hands-on workshops, table talks, and networking discussions in two distinct tracks:

SAS Global Forum 2016 users program registrants will interact with the world's brightest SAS users and experts, discovering creative solutions to perplexing big data problems while expanding their professional networks.
With content tailored to top-level decision makers (director level and above), the SAS Global Forum 2016 executive program will showcase how leaders are using advanced analytics to revolutionize the business world.
Imagining, creating, innovating
Always enriching, this year's event ups the ante. Arianna Huffington, founder and president of Huffington Post Media group, will challenge business leaders with her executive keynote, Redefining Success: The Third Metric That Can Benefit Your Bottom Line.
Susan Cain, author of the New York Times best-seller Quiet: The Power of Introverts in a World That Can't Stop Talking, will likewise upend assumptions with her users keynote, A Quiet Revolution: Changing How We Work, Lead and Innovate.
Other notable keynotes and customer presentations include:

The Start-Up of You – Ben Casnocha, technology entrepreneur, executive and author of the New York Times best-seller The Alliance: Managing Talent in the Networked Age.
Data Visualization: Changing the Way We See the World – David McCandless, award-winning information design guru and writer.
Hitting It Out of the Park With Analytics – John Morris, Executive Director of Business Analytics, New York Mets.
The Future of Brand Is Experience – Brian Solis, Principal Analyst, Altimeter Group
Executive program attendees will further hone their business acumen with insights from Amica Insurance, Dignity Health, Emerson Electric, Ford Motor Co., the Kellogg Company, Kelley Blue Book, Red Hat, SunTrust Bank, Telefónica, Walmart and others.
Users program registrants will benefit from presentations and hands-on workshops by leading global organizations like Accenture, Bank of Montreal, Blue Cross Blue Shield of Arizona, Delta Air Lines, DirecTV, eBay, Mayo Clinic, Oklahoma State University, Teradata, the US Census Bureau, Wyndham Exchange and Rentals, and more.
Register by March 24 and save
Online registration is open now. Through March 24, SAS Global Forum attendees can save 10 percent off each business and government registration with discount code VEGAS10.
SAS is sweetening the pot for full-time students, too. Starting March 17, while availability lasts, all full-time students will get a free pre- or post-conference tutorial with registration. Full details regarding fees and special offers are available online.
Participate virtually
For those unable to attend SAS Global Forum in person, SAS will Livestream select presentations beginning with Tuesday night's Opening Session, April 19 at 7 p.m. PT. Details will be announced the week before the conference.
SAS fans can also engage with SAS Global Forum via social media:

Diamond Sponsors for SAS Global Forum are Accenture, EY and Teradata. Emerald Sponsors are Cloudera, Dell, EMC, Intel and SaasNow. All sponsors will exhibit in The Quad, formerly the SAS Support and Demo Area.
About SAS
SAS is the leader in analytics. Through innovative analytics, business intelligence and data management software and services, SAS helps customers at more than 80,000 sites make better decisions faster. Since 1976, SAS has been giving customers around the world THE POWER TO KNOW®.
SAS and all other SAS Institute Inc. product or service names are registered trademarks or trademarks of SAS Institute Inc. in the USA and other countries. ® indicates USA registration. Other brand and product names are trademarks of their respective companies. Copyright © 2016 SAS Institute Inc. All rights reserved.