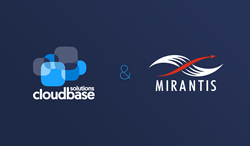 Timisoara, Romania (PRWEB) March 21, 2016
Cloudbase Solutions announced a partnership with Mirantis that will let enterprises use OpenStack Hyper-V Compute Driver on Mirantis OpenStack, with complete interoperability and support. The joint solution enables Hyper-V compute nodes to work side-by-side with KVMs in Mirantis OpenStack deployments, so that companies can manage heterogenous Windows workloads on OpenStack at the click of a button.
"As companies make the journey to the cloud, they need a robust platform for their business-critical, Windows server workloads. Cloudbase Solutions has a long track record of expertise in building interoperability between the Windows and OpenStack ecosystems. Our joint integration allows customers to confidently deploy Windows workloads into production OpenStack environment using Mirantis OpenStack, the most robust OpenStack distribution on the market." -- Mirantis VP Product Marketing, Kamesh Pemmaraju.
"We are extremely pleased to announce this partnership with Mirantis, as it will help substantially in pushing Hyper-V and Windows support in OpenStack clouds as a result of the joint effort between our companies." -- Cloudbase CEO, Alessandro Pilotti
As part of the agreement, Cloudbase Solutions joined the Mirantis Unlocked Technology Partner Program, and the companies have jointly produced a blog post and runbook, illustrating how to deploy Hyper-V compute nodes on Mirantis OpenStack as a driver in Fuel.
To learn more, visit: Mirantis Unlocked Validation Runbook.
About Cloudbase Solutions
Cloudbase Solutions is a privately held company dedicated to cloud computing and interoperability. Our mission is to bridge the modern enterprise and cloud computing worlds by bringing OpenStack to Windows based infrastructures. This effort starts with developing and maintaining all the crucial Windows and Hyper-V OpenStack components and culminates with a product range which includes orchestration for Hyper-V, SQL Server, Active Directory, Exchange and SharePoint Server via Juju charms and Heat templates. Furthermore, to solve the perceived complexity of OpenStack deployments, Cloudbase Solutions developed v-magine™, bringing a reliable, fast and easy bare-metal deployment model to hybrid and multi hypervisor OpenStack clouds with mixed compute, SDN and storage requirements, ranging from proof of concepts to large scale infrastructures.
About Mirantis
Mirantis is the pure play OpenStack company, delivering all the software, services, training, and support needed for running OpenStack. More customers rely on Mirantis than on any other company to get to production deployment of OpenStack at scale. Mirantis is among the top three companies worldwide in contributing open source software to OpenStack, and has helped build and deploy some of the largest OpenStack clouds in the world, at companies such as Cisco, Comcast, Ericsson, NASA, Samsung and Symantec. Mirantis is venture-backed by August Capital, Dell Ventures, Ericsson, Goldman Sachs, Intel, Insight Venture Partners, Sapphire Ventures, Siguler Guff & Co., and WestSummit Capital, with headquarters in Sunnyvale, California. Follow us on Twitter at @mirantisit.