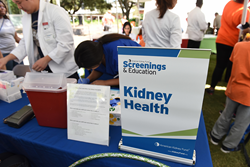 Our Kidney Action Day events help shine a spotlight on this silent killer in communities across the country.
ROCKVILLE, Md. (PRWEB) March 17, 2016
Residents of six cities nationwide will take action against a silent killer at the American Kidney Fund's (AKF) popular Kidney Action Day® events beginning this Saturday, March 19, in Bessemer, Alabama, outside Birmingham. Additional Kidney Action Day events will be held in Philadelphia (April 29), Washington, D.C. (July 10), Chicago (August 10), Houston (October 9) and New Orleans (October 22). Event details can be found at KidneyActionDay.org.
Kidney Action Day is AKF's signature outreach event that brings chronic kidney disease (CKD) awareness and free health screenings to thousands of individuals who are at risk. Held in communities where rates of kidney disease are above the national average, Kidney Action Day is free and open to the public, and features kidney health screenings, health education, healthy cooking demonstrations, fitness activities and fun for children. Kidney Action Day is made possible through the generous support of Presenting National Screening Sponsor American Renal Associates, National Screening Sponsor U.S. Renal Care, Inc., and Regional Sponsor Mallinckrodt Pharmaceuticals.
"An estimated 31 million Americans are living with chronic kidney disease, but most of them don't even know it. And millions more Americans are at risk because of diabetes and high blood pressure, the leading causes of kidney disease," said LaVarne A. Burton, president and chief executive officer of the American Kidney Fund. "Our Kidney Action Day events help shine a spotlight on this silent killer in communities across the country. With the support of our generous sponsors, three outstanding leaders in the renal field, we are reaching those with the greatest need."
Burton noted that many cases of kidney disease could be prevented by controlling the underlying conditions that most often cause it--diabetes and high blood pressure. Other factors that put people at risk for kidney disease include a family history of the disease, being African-American, Hispanic or Asian-American, and being over age 60.
Prevention is vital to keeping at-risk individuals in good health, and early detection through testing is a key factor in slowing or stopping the progression of CKD. At its Kidney Action Day events, AKF screens attendees for kidney disease risk factors, including diabetes and high blood pressure, and provides a blood test that checks kidney function in individuals at high risk.
About the American Kidney Fund
As the nation's leading nonprofit working on behalf of the 31 million Americans with kidney disease, the American Kidney Fund is dedicated to ensuring that every kidney patient has access to health care, and that every person at risk for kidney disease is empowered to prevent it. AKF fulfills its mission by providing a complete spectrum of programs and services: prevention outreach, top-rated health educational resources, and direct financial assistance enabling kidney patients to access lifesaving medical care, including dialysis and transplantation.
AKF helps 1 out of every 5 U.S. dialysis patients with treatment-related expenses. More than 93,000 patients in all 50 states received AKF grants last year. AKF invests in clinical research to improve outcomes for kidney patients, and fights tirelessly on Capitol Hill for legislation and policies supporting the issues that are important to kidney patients. To address the enormous public health threat of kidney disease, AKF provides public and professional health education materials and courses, the Kidney Action Day® community outreach program, a Kidney Health Educator program, and a toll-free health information HelpLine (866.300.2900). AKF's new grassroots fundraising platform, KIDNEYNATION, unites Americans who are raising funds to support the organization's mission.
AKF spends 97 cents of every donated dollar on programs and services. AKF holds the highest ratings from the nation's charity watchdog groups, including Charity Navigator, which includes AKF on its "top 10" list of nonprofits with the longest track records of outstanding stewardship of the donated dollar.
For more information, please visit KidneyFund.org, or connect with us on Facebook, Twitter and Instagram.