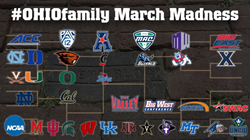 While the tournament is a celebration of the accomplishments of the student-athletes, it is also a testament to the hard work of these men and women who have dedicated their careers to intercollegiate athletics
Athens, OH (PRWEB) March 18, 2016
The NCAA basketball tournament is an exciting time of year, but for many Ohio University Sports Administration alumni, its for a different reason than winning the office bracket pool. For student-athletes it is the opportunity to compete on a national stage and a chance at their "one shining moment." For millions of fans it is a chance to show off their sports knowledge by winning the office bracket pool.
For many Ohio University Master of Sports Administration alumni, March Madness is part of the job.
In the 50 years of the sports administration program at OHIO, hundreds of graduates have gone on to work in college athletics and had notable success. For alumni like Clint Gwaltney, a Senior Associate Athletic Director for the University of North Carolina at Chapel Hill, the tournament has become a fixture on the spring schedule.
The 2016 tournament will be Gwaltney's 20th since graduating from the MSA program in 1995. It is the eighth time the Tar Heels have earned a number one seed in that time, and will be a chance at their third national title in Clint's tenure.
"Every year, I look forward to being at a different NCAA Tournament site for three straight weeks. It is also nice to bump into other graduates from the MSA program while moving from city to city. I am very fortunate to be associated with the Carolina Basketball program which has afforded me this opportunity for the last 20 years," said Gwaltney.
This year, a total of 51 OHIO alumni are represented among the 68 schools that made the field for the Division I Men's Basketball tournament. Another 28 are actively involved in March Madness at the conference level and the NCAA.
Included in that number are four athletic directors and four conference commissioners. Graduating classes are represented as far back as 1973, and as recent as the currently enrolled Professional MSA students.
"Every year it is exciting to see the growing number of our alumni working at insitutions competing in the NCAA tournament," said Jim Kahler, Executive Director of the Center for Sports Administration. "While the tournament is a celebration of the accomplishments of the student-athletes, it is also a testament to the hard work of these men and women who have dedicated their careers to intercollegiate athletics."
Visit our website at http://business.ohio.edu/about/news/how-ohio-sports-ad-alumni-spend-march-madness/ to see the full list of Ohio University MSA alumni who are working at NCAA member institutions that will be competing in this year's edition of #MarchMadness.