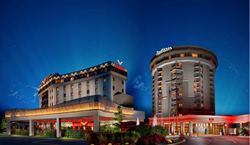 My family and I sincerely thank you for giving us this golden opportunity, which changed our lives, especially my children, said one of the investors in CanAm's EB-5 Project, "words cannot express my gratitude at this moment."
Pennsylvania (PRWEB) March 23, 2016
CanAm Enterprises, LLC ("CanAm") has reached another milestone! On March 23rd, 2016, the Valley Forge Convention Center repaid its loan in full and early to its 80 investors. It is CanAm's 29th EB-5 project to be fully repaid. To date, $666.5 million representing 1,333 immigrant investor families, have been repaid by CanAm's EB-5 projects.
The proceeds of the $40 million EB-5 loan were used to finance the renovation of a three-level convention center space and a 15-story full-service Radisson hotel, including parking spaces, recreational facilities, and a state-of-the-art casino facility. Upon completion in March 2012, the project created 1,046 direct and indirect jobs that fulfilled the EB-5 Program requirement for all 80 investors to obtain permanent residency status.
"We know how important a decision this is for all of our investors. As an immigrant myself, I know what it means to uproot your family to some place thousands of miles away. We turn away hundreds of projects that we just don't think are the right fit for the program or for CanAm," said Tom Rosenfeld, President and CEO of CanAm. "We know that our responsibility to our investors is about fulfilling our commitment to them and their families, honoring the trust they have placed in us, and delivering the highest level of service from our team to see them through their entire immigration and investment process. Repayment of principal is the final milestone in our promise to our investors when they sign on with us. We look forward to reaching this same milestone with all our investors."
CanAm has been helping immigrant families to successfully invest in order to obtain residency status abroad for almost 30 years, first in Canada through the Business Immigrant Investor Program and then for the past 15 years in the U.S. Immigrant Investor or EB-5 Program. To date, CanAm has raised nearly $2 billion in EB-5 capital for more than 46 projects across the United States. More than 3,000 of its investors have received I-526 petition approvals, allowing them and their families to obtain conditional residency in the United States. CanAm's EB-5 projects have resulted in I-829 petition approvals and permanent residency for more than 1,700 investor-families.
For more information, please visit http://www.canamenterprises.com
About the EB-5 Investor Program
The EB-5 Immigrant Investor Program (EB-5), administered by the United States Citizenship and Immigration Services (USCIS), provides opportunities for qualified foreign nationals to achieve permanent legal residency in the U.S. through an investment in an USCIS-approved project that will generate at least ten full-time jobs in the United States.