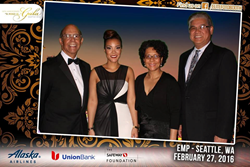 Seattle, WA (PRWEB) March 17, 2016
A record $205,000 was raised for scholarships at the recent UNCF Pacific Northwest "A Mind Is…" Gala. More than 300 business, civic and education leaders attended the Feb. 27 event, which was presented by Alaska Airlines at the EMP Museum. Paris Jackson, traffic anchor and reporter at KOMO 4 News, was the mistress of ceremonies. Dr. Michael Lomax, UNCF president and CEO, was in attendance. Mayor Marilyn Strickland of Tacoma, WA, was honorary chair.
"As a graduate of Clark Atlanta University, a UNCF member school, it was a pleasure to serve as honorary co-chair of the 2016 gala," Strickland said. "Making college affordable and working with employers to place students in jobs after they graduate is one of the best ways to strengthen our communities and directly address opportunity gaps."
The amount raised exceeded last year's total by $35,000. In addition to Alaska Airlines, sponsors included Union Bank, Safeway and Elite Collective. Their support, along with that of attendees, will help provide Pacific Northwest area students with the resources they need to get to and through college.
The evening featured live and silent auctions, a VIP reception, entertainment provided by Zach Bruce Band and a dessert frenzy featuring chefs Erika Cline, a contestant on Bravo's "Top Chef: Just Desserts," and Shanita McAfee-Bryant, winner of the Food Network's "Cutthroat Kitchen" competition. Dr. Frederick D. Patterson Awards were presented to Swedish Health Services (Corporation of the Year), Chef Erika Cline (Individual of the Year) and Jim Sinegal (Lifetime Achievement Award).
"I'm honored to receive this prestigious award named in honor of UNCF's founder, Dr. Frederick D. Patterson," said Sinegal, co-founder of Costco. "Dr. Patterson's work paved the way for African Americans to prosper through edu-cation. As a community, it is our responsibility to provide quality education for everyone."
"Many people don't have the time or money to give back to their community," Cline said. "I feel so blessed that I am able to share my culinary talent with UNCF Seattle."
To view images from the UNCF Seattle "A Mind Is…" Gala, please visit: UNCF.org
About UNCF
UNCF (United Negro College Fund) is the nation's largest and most effective minority education organization. To serve youth, the community and the nation, UNCF supports students' education and development through scholarships and other programs, strengthens its 37 member colleges and universities, and advocates for the importance of minority education and college readiness. UNCF institutions and other historically black colleges and universities are highly effective, awarding nearly 20 percent of African American baccalaureate degrees. UNCF awards more than $100 million in scholarships annually and administers more than 400 programs, including scholarship, internship and fellowship, mentoring, summer enrichment, and curriculum and faculty development programs. Its logo features the UNCF torch of leadership in education and its widely recognized motto, "A mind is a terrible thing to waste, but a wonderful thing to invest in."® Today, UNCF supports more than 60,000 students at more than 1,100 colleges and universities. Learn more at UNCF.org or for continuous news and up-dates, follow UNCF on Twitter @UNCF.