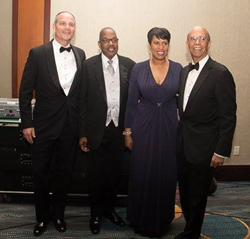 Washington, DC (PRWEB) March 17, 2016
A record $455,000 was raised for deserving young scholars at the March 5 UNCF Washington Mayor's Masked Ball. More than 500 business, civic and education leaders and UNCF President and CEO Dr. Michael L. Lomax attended the fourth annual ball at the Hyatt Regency on Capitol Hill. UNCF Washington Area Office and Mayor Muriel Bowser hosted the special evening to assist students in getting to and through college.
"The commitment of Mayor Muriel Bowser to UNCF's mission is commendable," Lomax said. "The success of our young people rely heavily on our local partnerships and pays dividends when they become future leaders in our communities."
A. Scott Bolden, Sodexo and Mount Zion Baptist Church in Arlington, VA received the prestigious Masked Award for their dedication and support of UNCF's work.
The event was emceed by Michelle Marsh, anchor WJLA and award winning group Morris Day and The Time provided entertainment. A VIP reception, live and silent auction, dinner and dancing were part of the program.
Co-chairs were Glenn and Dr. Debra Mahone. Chairman sponsors were Aerojet Rocketdyne and Vonage; Mayor's Royal Court sponsors were Stephen Canton, Hyatt Regency and Southwest Airlines; Mayor's Masked Court sponsors; Carmen Group, PEPCO, DC09, JMA Solutions, Whole Foods and Turner Construction.
"The response from our donors and guests was overwhelmingly positive which bodes well for the future of the UNCF Mayor's Masked Ball. We were able to assist many more students this year as a result of the generous gifts we received in support of the Ball." Charles Thompson III, Area Development Director, UNCF Washington.
To view images from UNCF WAO Mayor's Masked Ball, please visit: UNCF.org
###
About UNCF
UNCF (United Negro College Fund) is the nation's largest and most effective minority education organization. To serve youth, the community and the nation, UNCF supports students' education and development through scholarships and other programs, strengthens its 37 member colleges and universities, and advocates for the importance of minority education and college readiness. UNCF institutions and other historically black colleges and universities are highly effective, awarding nearly 20 percent of African American baccalaureate degrees. UNCF awards more than $100 million in scholarships annually and administers more than 400 programs, including scholarship, internship and fellowship, mentoring, summer enrichment, and curriculum and faculty development programs. Its logo features the UNCF torch of leadership in education and its widely recognized motto, "A mind is a terrible thing to waste, but a wonderful thing to invest in."® Today, UNCF supports more than 60,000 students at more than 1,100 colleges and universities. Learn more at UNCF.org, or for continuous news and updates, follow UNCF on Twitter @UNCF.