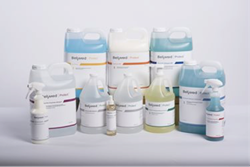 "The new Protect™ line of proprietary cleaning solutions reinforces Belimed's commitment to high performance Sterile Processing Environments," said Belimed's Director of Consumables Business, Susan Harley
Charleston, South Carolina (PRWEB) March 22, 2016
Belimed, Inc., part of the Belimed Group, a world leader in cleaning and sterile processing systems in health care and life sciences, has released a portfolio of cleaning solution products for every step of the decontamination process, beginning with instrument transport from the operating room through the instrument prep and pack process. "Adding this product to our portfolio gives us the opportunity to deliver optimized wash cycles and help customers manage the entire cleaning process, from the OR to the Sterile Processing Department" said Susan Harley, Belimed's Director, Consumables Business.
The new Protect™ line of proprietary cleaning solutions reinforces Belimed's commitment to high performance Sterile Processing Environments. The solutions are specifically designed to optimize performance with Belimed's superior washing equipment. The multi-enzyme (protease, lipase, and amylase) formulation has an added benefit of being subtilisin free. "Our formulation is focused on patient and staff safety, as we have eliminated substances such as subtilisin enzyme, fragrances, and dyes where they are not needed" said Harley "After discontinuing the BeliChem line of chemistries in 2010, this launch marks Belimed's return and commitment to this very important aspect of instrument reprocessing."
About Belimed
Belimed Inc. is a leading supplier of technology-based cleaning, disinfection, and sterile processing products and services for Medical and Pharma, hospital and healthcare systems across the Unites States, and around the world.
At Belimed Inc., http://www.belimed.com, we are different; our singular focus on our customer's world gives us the expertise to help them uncover and resolve process challenges, streamline and improve their overall work environment and provide the OR with safe and sterile instruments. We combine our deep knowledge of sterile processing with unique product and service solutions to drive out cost, improve efficiency and deliver quality.
That's sterile processing with absolute confidence.
Contact:
Susan Harley
843.216.7424