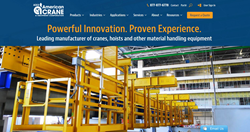 Douglassville, PA (PRWEB) March 19, 2016
American Crane & Equipment Corporation, an Eastern Pennsylvania based manufacturer of overhead electric cranes and hoists, announces the completion of its newly designed website. The new website facilitates user engagement, providing useful content to visitors with each page view.
After decades of experience, the company has accumulated innumerable industry insights and hours of hands-on information. Now through their online resource center, American Crane has one easy-to-access space to share this information with their customers.
The online resource center provides the ultimate library of information including equipment drawings and case studies covering real-world applications of material handling solutions. The library includes crane terminology and a useful resource entitled "How to Choose the Right Crane: A Crane Buyers' Guide" along with other valuable information. This content was created not only for engineers and designers, but also for maintenance, safety and operations managers.
American Crane & Equipment Corporation is a privately held U.S. company and a leader in material handling equipment. For more than 40 years, the company has been one of the most innovative manufacturers of high quality specialty lifting equipment for unique applications.