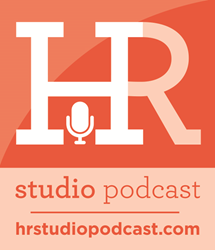 We encourage our audience to take this journey with us and actively participate. Our guest lineup includes authors and thought leaders such as Bruce Tulgan, Seth Mattison, Ian Ziskin and Bill Schiemann, as well as senior leaders from the HR field
Parsippany, NJ (PRWEB) March 21, 2016
Today, a new podcast called HR Studio: Building the Next Generation of HR Leaders launches. HR Studio Podcast is revolutionary in that it focuses on the development of future Human Resource Leaders though peer networking and shared learning. This podcast is unique in that it combines career stories and journeys; developmental references and resources; human capital trends; and more along with audience participation.
Podcast listeners will be able to interact with guests through a companion HR Studio Podcast LinkedIn Group, responding to questions posed by our guests at the end of each episode. Episode highlights and recommended resources will be posted to "show notes" on HRStudioPodcast.com for easy access to materials referenced during the podcast.
"HR Studio Podcast has been a year in the making and we are extremely excited by the reception so far" says interview co-host Kyle O'Connor. "We have worked hard to bring immense value to our community through this newer way of learning through shared information and contributions from diverse guests with deep expertise in the field of human resources." "We encourage our audience to take this journey with us and actively participate. Our guest lineup includes authors and thought leaders such as Bruce Tulgan, Seth Mattison, Ian Ziskin and Bill Schiemann, as well as senior leaders from the HR field."
A.J. O'Connor Associates (AJO) has developed and is sponsoring this new forum. As President, Andy O'Connor points out, "We are strong proponents of continuous learning, professional updating and networking at AJO and already sponsor several networking forums, including one for senior HR Leaders. HR Studio Podcast is the first exclusively online community whose format we hope will attract our largest audience yet. We're excited to launch this new forum dedicated to the next generation of HR Leaders."
To learn more, visit HRStudioPodcast.com and listen to the first episode with Kyle and his co-host, Linda Hlavac. Future episodes can be downloaded via iTunes, Stitcher or SoundCloud, as well as streamed via HRStudioPodcast.com. HR professionals are also encouraged to join the LinkedIn Group for HR Studio Podcast to participate in the discussion.
About A.J. O'Connor Associates
AJO is an HR Consulting boutique with a strong client base throughout the Northeastern United States and a team of high caliber Executive Coaches and Career Coaches who deliver services in thirty states and fifteen countries. For more than thirty-three years, AJO has partnered with individuals, teams and organizations to reach their goals in the areas of executive coaching, team and leadership development and career transition. AJO delivers uncompromising personalized, customized services as a trusted HR consulting partner to progressive and world-class organizations in the region.