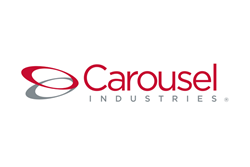 By bringing Brian and Charlie aboard — both Cisco veterans and experts in their fields — we are able to add incremental value to our customers using Cisco solutions.
Exeter, RI (PRWEB) March 17, 2016
Carousel Industries, a leader in communication and network technologies, professional and managed services, and cloud solutions, announced two key appointments to its new Cisco business practice, which was announced on March 1, 2016. Effective immediately, Brian Davies and Charlie Beckman have been named Vice President of Cisco Operations and Senior Director of Cisco Engineering, respectively. Davies reports to Carousel's Chief Revenue Officer, James Marsh, while Beckman reports to Carousel's Vice President of Engineering, Dan Whalen.
"As our customers' technology needs are rapidly evolving, a fundamental element of our strategy is to continue to strengthen and diversify our product and services offerings. This strategy is most crucial for us as a managed services and cloud solution provider," commented James Marsh. "By bringing Brian and Charlie aboard — both Cisco veterans and experts in their fields — we are able to add incremental value to our customers using Cisco solutions."
As Carousel's new Vice President of Operations, Brian Davies is responsible for the overall structuring and performance of Carousel's new Cisco business practice. Having spent over fifteen years in sales leadership roles at Cisco and Avaya, Davies has a track record of building a portfolio to consistently exceed sales targets in commercial, enterprise and global business. In his new role Davies will work with Carousel's other business practices to ensure cross-functional alignment while providing a vision and go-to-market strategy for the new Cisco business.
"I am thrilled to play an important role in shaping Carousel's Cisco practice," said Davies. "With our deep expertise across communication, collaboration, and networking technologies, we will be looking to drive enormous growth for Carousel – particularly in managed services. I am pleased to have the commitment and talent of an exceptional team behind me as we pursue a comprehensive growth strategy offering the full breadth of Cisco products and services to our customers."
Charlie Beckman, who brings over ten years of Cisco engineering experience to Carousel, will help align Carousel's sales and engineering teams to foster an effective solution-selling strategy, while driving Carousel's certification path and engineering enablement. During his tenure at Cisco, Beckman was responsible for building and managing a successful engineering practice from the ground up and is experienced in delivering engineering solutions to core vertical markets.
"Carousel has a well-established reputation as a customer-centric organization," said Beckman. "My goal will be to create an engineering culture of mapping our customers' strategic initiatives to innovative technology solutions. Critical to our success will be to ensure lockstep alignment between engineering and sales."
Bringing Cisco to Carousel's partner ecosystem strengthens their managed services and cloud portfolios. The new partnership enables them to resell and provide managed services for the full spectrum of Cisco communication, collaboration, security, and networking solutions. In this capacity, Carousel enhances their ability to meet the evolving demands of their customers.
For more information on Carousel's partnership with Cisco, please refer to the press release issued earlier in March, or visit Carousel's website at [http://www.carouselindustries.com/partners/cisco
About Carousel Industries
Carousel Industries is a recognized leader in helping organizations evolve the way they communicate and orchestrate the flow of information throughout their networks. Carousel enables clients to connect and collaborate the way modern IT users demand and advance from their current network infrastructure to meet tomorrow's standards. With deep expertise across a vast portfolio of communication, network, and security technologies, Carousel is able to design, implement, and support solutions tailored to meet the unique needs of each customer. By offering professional and managed services with flexible deployments in the cloud, Carousel ensures clients achieve agility and utilize technologies in the way most effective for their business.
Since 1992 Carousel has grown an average of 30% per year and has over 6,000 customers, including 35 of the Fortune 100. Carousel has been recognized by multiple publications and industry consortiums as a top technology integrator, managed service provider, and cloud solution provider – including seven listings in the Inc. 500/5000. Headquartered in Exeter, RI, Carousel has over 1,000 employees working in 30 locations across the U.S.