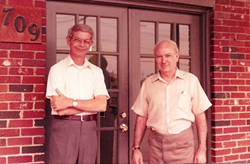 As Louisiana's Premier Steinway dealer, we now reach communities throughout Louisiana and the Mississippi gulf coast with an experience that is, as we say, exceptional, not expensive!
(PRWEB) March 18, 2016
Continuing the tradition that began in 1958, owners Steve O. Kinchen and John D. Wright, Jr. have brought in additional inventory for Hall Piano Company's 58th Anniversary Sale. Now through April, Hall Piano Company will pay the taxes for you on a new Steinway-Designed piano.
Conveniently located at 901 David Drive, Metairie, Louisiana, Hall Piano's inventory boasts over 75 pianos immediately available, including grand pianos, upright models and digital keyboards. Another very popular "gift" is the upgrade of a digital player system.
From their first location in 1958 at the corner of Camp and Julia Streets in New Orleans, Dan M. Hall and John D. Wright Sr. started the business with a primary emphasis on the restoration of fine quality grand pianos for the discriminating pianist and reconditioning of upright pianos for students. Diligently serving the musical community in many ways, Dan and John established the local chapter of the Piano Technicians Guild. During this time, both were recognized as "Master Craftsmen" by the P.T.G. and helped train most of the piano technicians in the greater New Orleans area.
Limited sales display area and cramped working conditions prompted the company's move in 1966 from downtown New Orleans to the largest New Orleans suburb area, Metairie. Hall Piano's first Metairie location was 709 David Drive, which nearly tripled the size of the original New Orleans facility and created the opportunity to offer the public a fine selection of new and refurbished pianos as well as expanding their custom rebuilding and restoration shop.
In 1988, Hall Piano Company expanded once again and moved to their third physical address 901 David Drive, allowing further expansion of their repair and restoration shop as well as the addition of digital keyboards.
In January of 2002, Dan Hall and John Wright Sr. decided to retire. John Wright Sr.'s son John Wright, Jr. and long-time employee Steven Kinchen purchased the company and have dedicated their efforts to continuing in the spirit of excellence and customer service that built Hall Piano Company.
Hall Piano Company outgrew the physical capabilities of this location by 2002 and embarked upon the custom design and construction of their current retail and restoration center. The initial conceptual design by Chris Miller of Pacific Store Designs was approved, and construction was completed in February of 2003.
Steve Kinchen, co-owner of Hall Piano Company, said, "As Louisiana's Premier Steinway dealer, we now reach communities throughout Louisiana and the Mississippi gulf coast with an experience that is, as we say, exceptional, not expensive!"
Hall Piano Company offers piano lessons for children and adults in group and individual programs. From pop, jazz and classical to gospel, praise/worship and improvisation, their musical educators help students of all ages discover abilities, set goals and enjoy the musical learning experience. In addition to piano lessons, Hall Piano's services include piano sales and rentals, acoustic and digital piano sales, piano moving, repairs and method books.
Kinchen commented, "Shoppers are invited to come see and play our many models. The unique touch and sound of each piano is an experience like no other, and very personal. We're here to assist each customer in connecting with their perfect piano. But this expanded 58th Anniversary inventory is only available through April."
Hall Piano Company is Louisiana's Premier Steinway & Sons dealer. For additional information about available inventory and services, contact Emily McWilliams at emilym(at)hallpiano(dot)com or call 504.733.TUNE.