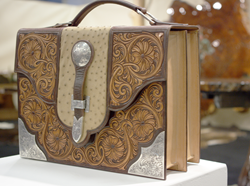 The Western Design Conference provides a unique opportunity for artists to interact with art enthusiasts.
Jackson Hole, Wyoming (PRWEB) March 18, 2016
Each year more than 100 top functional artists are selected by an expert jury for participation in the Western Design Conference Exhibit + Sale (WDC) in Jackson Hole, Wyoming. Showcasing the work of artists creating Western-inspired furnishings, home décor, fashion, jewelry and accessories at the highest levels of contemporary craft, this year's event will take place Sept. 8 – 11, 2016, at the Snow King Events Center, and is a signature event of the 32nd annual Jackson Hole Fall Arts Festival.
The deadline to apply for this year's Western Design Conference is April 1, 2016, with annual prizes totaling more than $19,000 awarded to artists recognized for top work in specific categories. Artist applications are available on the event website here. The jury's selections, limited to 130 artists, will be announced April 11.
"It's always so much fun to see the artist applications coming in with examples of their amazing work," says WDC Director Allison Merritt. "We're seeing many new applicants from across the country, as well as outstanding prior artists who hope to return this year." The Western Design Conference provides a unique opportunity for artists to interact with art enthusiasts and convey a deeper understanding of the influences and process that go into each one-of-a-kind piece, explains Merritt in a video capturing the excitement of the WDC.
In addition to the juried Exhibit + Sale, artists and retail merchants can apply for participation in Retail Row, a secondary non-juried shopping location within the conference. "Space in our Retail Row also is available to reserve now," says Merritt, who notes that the additional shopping area has grown exponentially in size – and popularity with attendees – over the past few years.
A third popular venue at the annual WDC, the Designer Show House is now in its second year and features six professionally designed rooms in a true-to-scale "house" built on the exhibition floor. "This year's show house will be presented by Mountain Living magazine and sponsored by Deanna Briggs of REMAX/Obsidian Real Estate, and is being designed and built by B&B Builders," says Merritt. Four of the rooms are already spoken for, but Merritt is accepting applications from interior designers for the remaining two spaces.
About the Western Design Conference:
The 24th annual Western Design Conference Exhibit + Sale is a four-day, multimillion-dollar event that brings together craftspeople, collectors, interior designers, architects and fashion designers with a love of the West, sponsored by Mountain Living magazine. The Western Design Conference was founded 24 years ago in Cody, Wyo., as a way to promote contemporary artists working in historical American craft methods. The WDC moved to Jackson in 2007. Allison Merritt, who purchased the WDC in 2014 after seven years acting as event manager, continues the strong commitment to Western arts in Wyoming while expanding the reach of the show. Additional information on the WDC, including schedule and tickets, is available at http://www.westerndesignconference.com and on Facebook and Twitter @WesternDesign.
Contact: Amy Stark, WordenGroup Public Relations, amy(at)wordenpr(dot)com, 307.734.5335