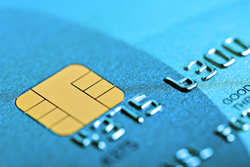 The fact that more consumers are worried about credit and debit card security than their health shows that for many, handing over personal data to a merchant is a scary proposition.
Hoboken, New Jersey (PRWEB) March 18, 2016
­A NYC area IT consultant and MSP, highlights statistics showing the extent to which consumers are feeling the pain of poor credit card data security and why merchants are slow to adopt the Europay, MasterCard and VISA (EMV) chip card security standard.
In a new article on the eMazzanti Technologies website, the company points to surveys over the past two years showing that more than two thirds of consumers worry about identity theft and hacking of credit card information. The article states that, as recently as 18 months ago, credit and debit card security was a bigger concern among consumers than their health.
"The fact that more consumers are worried about credit and debit card security than their health shows that for many, handing over personal data to a merchant is a scary proposition," stated Jennifer Mazzanti, President, eMazzanti Technologies. "This is a problem that retailers can address by implementing EMV, and doing so can build trust, generate goodwill and create a competitive advantage for forward-looking merchants."
Below are a few excerpts from the article, "Retailers Slow to Adopt EMV Despite Widespread Card Security Worries."
"As of January, 2016, only 37% of merchants had implemented the standard1 even though an October 1, 2015 conversion deadline came and went. While liability for card present fraud shifted to the merchants if they were not EMV ready by that date, adoption has been slower than forecast."
"The reasons reported by merchants for the slower than expected EMV adoption include a desire to get past the holidays before making a change and an industry lack of readiness. Many report that their processors just aren't ready to accept EMV payments. A shortage of technical resources to implement the new technology has also contributed to the delay."
"In addition, VISA is soon raising the bar on installer qualifications. The new VISA requirement greatly reduces the number of payment technology providers that are qualified to install and service merchant POS systems. Retailers who use QIR certified providers can expect to receive the highest quality POS application and terminal services."
"The concern among consumers about credit card data security justifies immediate action. Merchants who move forward with EMV have an opportunity to alleviate those concerns, increasing customer confidence and loyalty," the article concludes.
EMV-ready Processor, Terminals and Installation
eMazzanti Technologies is currently one of only 105 companies worldwide to be certified as a PCI Qualified Integrator under the stringent certification standards of the PCI SSC QIR program. With eMazzanti, merchants have one stop for EMV-ready payment processing, POS terminals, installation and support.
eMazzanti is fully prepared and ready to help merchants make the switch to the new EMV standard. As a PCI Security Standards Council Participating Organization and one of the first companies to be QIR certified, eMazzanti's technicians perform EMV technology conversions that meet the highest standards and comply with the VISA QIR requirements.
1Source: TSG survey results reported in pymtnts.com February 23, 2016, article. EMV's Slow Crawl Into Retail
Related resource information:
It's time to Upgrade to EMV Card Readers
eMazzanti to Contribute at PCI Security Standards Council 2015 North America Community Meeting
About eMazzanti Technologies
eMazzanti's team of trained, certified IT experts rapidly deliver cloud and mobile solutions, multi-site implementations, 24×7 outsourced network management, remote monitoring and support to increase productivity, data security and revenue growth for clients ranging from law firms to high-end global retailers.
eMazzanti has made the Inc. 5000 list six years running, is a 2015, 2013 and 2012 Microsoft Partner of the Year, and a 5X WatchGuard Partner of the Year. Contact: 1-866-362-9926, info(at)emazzanti(dot)net or http://www.emazzanti.net Twitter: @emazzanti Facebook: Facebook.com/emazzantitechnologies.