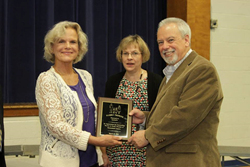 For every family we track, there are two to three others out there in need of our services.
Woodstock, VA (PRWEB) March 18, 2016
Family Promise of Shenandoah County became the organization's 200th Affiliate nationwide with their grand opening on Sunday, March 13 in Woodstock, Virginia. More than 250 community members attended the festivities which included a visit from Family Promise Founder and President Emeritus Karen Olson.
Family Promise of Shenandoah County fills a void in the northern Virginia County—previously, there were no shelters serving homeless families. Executive Director Sherry Arey said, "Fifty children were identified as homeless by the Shenandoah county public schools last year but it's challenging to get accurate numbers for how many families are actually homeless in the area. Many are reluctant to come forward for fear of having their children taken from them. For every family we track, there are two to three others out there in need of our services."
Efforts began more than two years ago when a community meeting called to address the homeless crisis drew 180 people. Representatives from the Family Promise national office attended and helped begin the process of building support, raising funds and engaging the community. At opening, the Affiliate comprises 13 host congregations and approximately 20 support congregations to provide shelter, meals and services for the families in the program. Sunday's opening festivities culminated with a ribbon-cutting and tour of the new Day Center, donated by Valley Health's Shenandoah Memorial Hospital, where families have access to laundry, showers, computers for job searches, and personal storage space.
Karen Olson was impressed by the new Affiliate's efforts and their commitment to changing the lives of families in-need. "It was a privilege and an honor to celebrate the grand opening of Family Promise Shenandoah County. 200 Affiliates, more than 650,000 people served—this is something I never could have imagined when Family Promise started as a local program in Union County, NJ in 1986. Countless lives have been changed—not just the lives of homeless families but the lives volunteers as well. This is a very dynamic Affiliate with exceptional leadership and I know they are well poised for growth."
About Family Promise
Family Promise was founded in 1988 on the belief that Americans are compassionate people who want to make a difference. Today, Family Promise comprises 200 Affiliates in 42 states, with more in development. Family Promise programs involve more than 160,000 volunteers and they provide assistance to more than 50,000 family members annually. Since their founding, they have served more than 650,000 people, including tens of thousands of homeless families who found temporary homes at Affiliates nationwide.