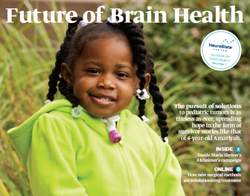 (PRWEB) March 18, 2016
Given the growing lack of awareness and participation in clinical trials, Mediaplanet has teamed up with National Brain Tumor Society, American Brain Tumor Association, Pediatric Brain Tumor Foundation, Cleveland Clinic, Mevion, Novocure, Marie Shriver and many more to educate Americans on brain health issues and the innovative treatments that now exist.
The print component of "Brain Health" will be distributed within this weekend's edition of USA Today, in New York, Washington DC/Baltimore, Philadelphia, Dallas and South Florida, with a total circulation of approximately 250,000 copies and an estimated readership of 750,000. The digital component is being distributed nationally, through a vast social media strategy, and across a network of top news sites and partner outlets. To explore the digital version of the campaign, click here.
On the interior, David Arons, CEO of the National Brain Tumor Society, writes, "Collectively, these efforts are poised to help overcome the challenges of treating the nearly 700,000 Americans living with a brain tumor today. Still, to ensure a brighter future for all of those who will be diagnosed tomorrow, the brain tumor community must, and surely will, continue to forge ahead with even greater resolve and determination."
This campaign was made possible with the support of the NBTS, ABTA, PBTF, Cleveland Clinic, Mevion, Novocure, Marie Shriver and many others.
About Mediaplanet
Mediaplanet is the leading independent publisher of content-marketing campaigns covering a variety of topics and industries. We turn consumer interest into action by providing readers with motivational editorial, pairing it with relevant advertisers and distributing it within top newspapers and online platforms around the world.