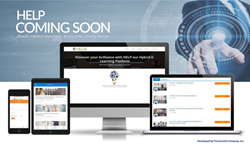 Discover your brilliance with our HELP
Anchorage, Alaska (PRWEB) March 18, 2016
Marcus Bobbitt, The Growth Company's COO releases a statement about TGC's new e-learning platform known as HELP,
He states: "TGC continues to embrace technology in order to diversify our distribution channel of our services. We noticed many companies and workplace professionals yearned for training, whether it is technical or non-technical, yet find it difficult to allocate time out of the office for X amount of days or hours to partake in training. Our solution? HELP, our Hybrid E-Learning Platform powered by WizIQ. HELP is an online environment that allows workplace professionals to develop their intellect either by live courses, webinars, or self-paced modules. Bobbitt continues, HELP will provide courses that are asynchronous or synchronous capturing both preferences. To further aid in flexibility, HELP can be accessed via browser capable desktop, tablet, or mobile device."
When asked why the name HELP, he explained: "Helping our clients succeed has been interwoven in our culture for over 30 years, it's simply what we do and who we are. Imagine the ability to enter an enriching web-based atmosphere hosting self-paced accredited courses ranging from Management, Leadership, and Anti-harassment to Word, Excel, and PowerPoint. We wanted to create an environment that our learners view as a powerful tool that will harvest their inner brilliance."
Each course will be equipped with quizzes, exams, instructional videos, challenges, and lectures to ensure the topic is delivered most effectively.
HELP will launch mid-2016, featuring our accredited Management Academy. Discover your brilliance with HELP, providing ability to train anyone, anywhere, on practically any device.
The Growth Company, Inc. is a Human Resource and Management consulting firm specializing in soft skills training, facilitation and mediation as well as investigations, coaching and manual/policy write ups and re-writes. The Growth Company, Inc. was established in 1978 and is one of the longest lasting consulting firms in Alaska. For further information about The Growth Company or future developments click here