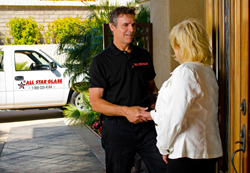 All Star Glass expands to Sparks, NV!
Sparks, NV (PRWEB) March 19, 2016
As a member of the Auto Glass Safety Council, (http://www.agsc.org), ALL STAR GLASS maintains certification of all its locations to ensure the safety of our installations, give the consumer more confidence in our replacements, and improve the knowledge the technicians need to perform competently. The AGSC was founded and is supported by companies in the auto glass replacement industry that keep safe installation as their primary goal.
The 100+ auto glass technicians at All Star Glass are trained, tested and certified in proper techniques and procedures. Less than 15% of the U.S. auto glass companies are participating in this elite class of professionals. To learn more about their safety program, go to http://www.allstarglass.net/safety-and-autoglass.
All Star Glass store hours are Monday through Friday, 8:00am to 5:00pm; however, their 24/7 call center can schedule an appointment for your auto glass replacement or repair by calling (800) 225-4184. Or go online to http://www.allstarglass.net/california-auto-glass-repair-and-replacement-services and find any of their thirty locations in California or the one now open in Sparks/Reno. Most windshield replacements and other auto glass jobs can be completed within 24 hours.
About All Star Glass:
Not all auto glass businesses are created the same. Windshield replacement and auto glass repairs are very technical tasks that should be completed by an experienced installer. The All Star Glass team has all proper credentials to do business in the states of Nevada and California and is fully insured. Each of the company's 31 auto glass centers has business licenses for its area and complies with all requirements for the Bureau of Automotive Repairs (California). All technicians have passed pre-employment criminal background checks and drug testing, as well as in-house training specifications and certification by urethane and glass manufacturers. Our products, vehicles and employees are fully insured.