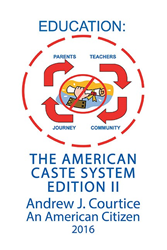 "This book suggests a solution to educational shortfalls, one of America's most pressing problems." - Robert Fletcher, CEO of Strategic Book Publishing and Rights Agency
(PRWEB) March 28, 2016
"This book suggests a solution to educational shortfalls, one of America's most pressing problems. We are pleased to announce its release," said Robert Fletcher, CEO of Strategic Book Publishing and Rights Agency.
Despite the expenditure in 2011 of over $607.2 billion yearly and the best professional efforts of over 3.1 million teachers – according to the Center for Educational Reform – as well as several recent major Department of Education programs purported to solve all of America's educational shortfalls in short order, the American Educational System (AES) continues to fail virtually all American students with unsatisfactory educational outcomes that will last lifetimes and deeply impact U.S. global presence, according to author Andrew J. Courtice.
The author feels that this inability to implement much needed change is because at its root the AES is a series of "givens" that have created a caste-like situation where students are unable to perform to their potential due to inflexible system constraints.
As in any solution-focused discussion, one key to a successful outcome is for the stakeholders to agree on the objectives any solution should achieve. In "Education: The American Caste System Edition II," the author proposes a new paradigm for the AES aimed directly at regaining the ideal of life, liberty, and pursuit of happiness for every American student. Mr. Courtice's paradigm is best portrayed by four objective measures of success:
First, Education must equal unlimited opportunities for all students. For far too long, Americans have accepted limitations such as budgets and resources as reasons to deny students basic journeys to their own lifetime success.
Second, Education must equal global competitive edge. In virtually every global educational assessment to date, America has fallen further and further behind competing nations. How long can this trend be allowed to last?
Third, Education must equal a bias for educational value. Perhaps the biggest AES complaint today is the belief that the cost of education is too high and cannot demonstrate real value.
Fourth, Education must equal individual performance, one student at a time. Each student is a unique learning entity that has been penalized and limited by enforced boundaries established for the convenience of the system.
The author structured this book into three highly documented step-by-step discussions aimed directly at realizing these four objectives. Section 1 is a review of the elements of today's caste environment that require attention; Section 2 is a discussion of the new paradigm elements needed to change the AES culture and environment; Section 3 is a vision of how these changes would impact the entire AES as a system and not just as single focuses that always seem to miss the mark.
Chapter by chapter, the text seeks to build a supported case for establishing an AES that is so successful that it is virtually invisible within the American democracy everyone seeks to prosper in and enjoy.
Watch the video at: https://youtu.be/cEwfVNqqOng
EDUCATION: THE AMERICAN CASTE SYSTEM EDITION II (ISBN: 978-1-68181-188-8) is now available for $22.95 and can be ordered through the publisher's website:
http://sbpra.com/AJCS or at Amazon.com or Barnesandnoble.com.
WHOLESALERS: This book is distributed by Ingram Books and other wholesale distributors. Contact your representative with the ISBN for purchase. Wholesale purchase for retailers, universities, libraries, and other organizations is also available through the publisher; please email bookorder@sbpra.net.