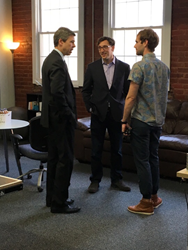 Like the Get Fit Challenge, Spire is encouraging others to get moving and enjoy the high quality of life available in Chattanooga.
Chattanooga, Tennessee (PRWEB) March 18, 2016
This week, Chattanooga Mayor Andy Berke visited the headquarters of Spire Labs Inc., a Chattanooga-based company that drives wellness-related results and population engagement for both employers and health plans through its data-driven social support program and mobile platform. The Spire Labs team has been participating in Mayor Berke's Chattanooga Get Fit Challenge, which promotes wellness through encouraging citizens to try new fitness activities and explore Chattanooga's outdoor assets.
"It was great to meet the Spire Labs team and exciting to see their level of commitment to the wellness of Chattanoogans and beyond," said Mayor Andy Berke. "Like the Get Fit Challenge, Spire is encouraging others to get moving and enjoy the high quality of life available in Chattanooga."
Mayor Berke started promoting Get Fit last October and the Spire Labs team joined the February Steps Challenge and community walk with the Mayor. The company has used their flagship mobile platform, Spire, to allow team members to compete with each other over the course of multiple weeks, using direct syncing with Fitbit and Jawbone UP, as well as integration with Apple Health and Google Fit. Spire offers the unique benefit of being able to connect different types of wearables to a user's profile.
"We believe that culture is the key driver for behavior change," said Jay Kelley, chief executive officer at Spire Labs. "We're committed to helping employers and health plans tackle this problem, and we're proud to join the mayor in his commitment to changing the culture, here in Chattanooga."
About Spire Labs Inc.:
Spire Labs Inc. helps people lead happier, healthier lives, with technology that is easy and enjoyable to use. Spire Labs' flagship platform, Spire, is a social network that builds healthy culture and positive interactions in the workplace. Members connect with and support each other through teams, challenges, competitions, and Spire's unique Social Points system, all of which have been specifically designed to drive engagement and social support. In addition to Spire's own challenges and incentives, employers and health plans also have the ability to integrate existing rewards programs, health content, and other wellness assets into Spire's social environment, increasing their exposure and amplifying their impact. Spire is currently being offered to over 1 Million lives across the US. To find out more, visit http://spire.me.
About the Chattanooga Get Fit Challenge:
The Chattanooga Get Fit Challenge is a new initiative that showcases the variety of outdoor opportunities available to everyone in Chattanooga and demonstrates how easy it is to add different fitness activities to a daily routine. For more info or to find out how you can participate in the Chattanooga Get Fit Challenge, visit connect.chattanooga.gov/getfit and text GETFIT to 97779.