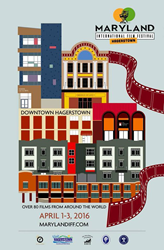 Tracie Hovey said, "Partnering with these two well-known non-profits who are committed to helping our soldiers makes this year's film festival very worthwhile and fulfilling."
Hagerstown, MD (PRWEB) March 18, 2016
The Maryland International Film Festival (MDIFF) is partnering with the national non-profit AMVETS and the Hagerstown-based Horizon Goodwill to celebrate veterans and highlight the needs to put our heroes back to work. Maryland International Film Festival-Hagerstown Executive Director, Tracie Hovey said, "Every year this film festival gives back to our community in a couple of ways including by donating to a cause, and also by screening films that highlight a community need. We are very grateful to all those who have fought for our safety and freedom, as the veterans did who are portrayed in the film 13 HOURS. Therefore, partnering with these two well-known non-profits who are committed to helping our soldiers makes this year's film festival very worthwhile and fulfilling."
The MDIFF-H opening night feature is 13 HOURS: The Secret Soldiers of Benghazi, which is based on a true story. The films follows six members of a security team, all previous veterans, who fight to defend the American diplomatic compound in Benghazi, Libya after waves of terrorist attacks on September 11, 2012. The film stars James Badge Dale who will also be at the opening night event. The film's executive producer is Scott Gardenhour, of Smithsburg, Maryland.
The opening night film will be screened at the Maryland Theater April 1, 2016 with a red carpet event starting at 7:15pm. As part of the partnership, AMVETS and Horizon Goodwill are giving out a total of 100 tickets to veterans to attend the opening night film festival program. Both non profits will also be on hand during the opening night celebration to sign up any veteran who is looking for work or in need of additional services. Horizon Goodwill CEO, John McCain said, "This high profile event is a great way to shed a light on the services we have to offer to our veterans. We are excited about the possibilities of helping as many people as we can." Jim Pidgeon, AMVETS National Commander, stated, "We are proud to be a partner of this festival so the community can hear more about our programs and refer veterans that might need assistance."
AMVETS provides support for veterans and the active military in procuring their earned entitlements, as well as community service and legislative reform that enhances the quality of life for this nation's veterans and citizens alike. AMVETS is one of the largest congressionally-chartered veterans' service organizations in the United States, and includes members from each branch of the military, including the National Guard and Reserves.
The Maryland International Film Festival-Hagerstown is a 501c3 dedicated to providing a platform for non-profits and organizations to further their mission through the celebration of film. We believe through film you can promote a greater cultural understanding, philanthropy and volunteerism within the community. The film festival donates some of our proceeds to non-profit organizations in and around our community. For more information about the Maryland International Film Festival-Hagerstown and purchasing tickets log onto our website at http://www.marylandiff.com.
###