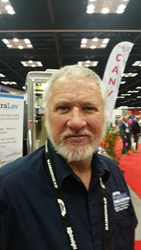 I look forward to sharing more pipe bursting tips at the 2017 event
(PRWEB) March 18, 2016
TRIC Tools, Inc. was a Featured Exhibitor at the 2nd Annual (WWETT) Water and Wastewater, Equipment, Treatment and Transport Show in Indianapolis, Indiana. Representing TRIC at the event were Sales Director Gregg Abbott, Sales Engineer Brennan Lunzer, and Operations Director Michael Lien. Education Day and Exhibitor setup started on February 17th and the show ran through February 20th, 2016. TRIC showcased its X30 Lateral and M50 Municipal Pipe Bursting equipment and provided "Live" pipe bursting demonstrations. On 2/19, Utah Pipebursting's Jay Garrett started the day off with "Advanced Pipe Bursting" forum with active involvement with the attendees. "I look forward to sharing more pipe bursting tips at the 2017 event – stay tuned," said Jay. Utah Pipebursting (http://www.utahpipebursting.com) uses TRIC's C25 and M50 models for pipe bursting projects.
During this year's event, TRIC's personnel joined the Lateral Pipe Bursting meeting on Thursday, February 18th. Lateral Pipe Bursting Chairman John Galligan of Pipeshark, Inc. hosted the meetings. During the meeting, participants were asked to share their comments on the Pipe Bursting Specifications. Following a peer review, a final draft of the specifications will be released later this year and will be available at the International Pipe Bursting Association's website (http://www.ipbaonline.org). Other meeting attendees were: Utah Pipebursting's Jay Garrett, Pipespy's Heiko Dzieron, H&R's Horatio Franco, Clog Squad's Mike Phillips and Ken Beyer, Austin Taylor and Nassco's Ted DeBoda and Jane Bayer and Underground Connections, Inc.'s Tom Carlisle. Representing TT Technologies were Eddie Ward, Mike Schultz, Scott Redman and Sarah Mahlik. John Hraboski attended representing Hammerhead Trenchlesss. To learn how the International Pipe Bursting Association can support your project please visit the website http://www.ipbaonline.org.
WWETT had a number of post tradeshow events enjoyed by attendees. Wednesday and Thursday, WWETT hosted two nights of kickoff parties on the Indianapolis Colts playing field in Lucas Oil Stadium. Industry trade vendors and the Cole Pub hosted the kickoff parties. Jack Doheny also hosted a Thursday party at the JW Marriott. The "Flying Toasters" entertained Jack Doheny's guests for the second consecutive year. The following night played for at Cole Publishing's annual WWETT appreciation night. The biggest news of all for show participants was that after 36 years of hosting the Pumper-Cleaner and now the WWETT Show, Cole Publishing decided to sell the WWETT show to Informa Exhibits. Informa is a European Trade Show Company that also handles the World of Concrete show in Las Vegas. Cole Publishing and its magazine publications will continue to participate in the WWETT Show.
TRIC invented and patented the first practical Lateral Pipe Bursting system while simultaneously gaining national approval of HDPE pipe for its use, thus opening the market for trenchless home sewer replacement in America.
For more information about Trenchless Pipe Bursting equipment or the trenchless industry in general - please call 888-883-8742 or visit TRIC's website at: http://www.trictrenchless.com to see how they can answer any of these questions for you. Get your Trenchless Sewer and Water Replacement service off on the right foot, one lateral at a time.