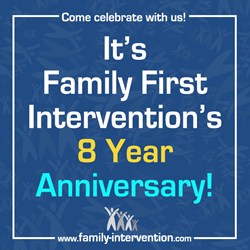 We're really grateful to have reached eight years in business, but really, we're just getting started
Phoenix, AZ (PRWEB) March 21, 2016
Family First Intervention, a group of specialized addiction interventionists, is celebrating its eighth anniversary this month. The organization's founder, Mike Loverde, had several years of intervention counseling experience and as an owner of a drug rehabilitation facility prior to incorporating the company in March 2008.
Family First Intervention has helped stage more than 1,500 interventions for drug- and alcohol-addicted individuals since its founding. Additionally, the group has helped nearly another 1,000 substance abusers find the most appropriate rehabilitation program according to their budget and treatment needs.
"We're really grateful to have reached eight years in business, but really, we're just getting started," said Loverde, who is also the President of the group and either leads or coordinates every intervention with families. "There's much more work to be done on tackling this epidemic, and there's always an addict and family that's going to need help.
"The thing about every intervention we coordinate is each situation really isn't unique. The addicts we work with can't really get high without the family's help, whether passively or actively. Yes, the person almost always starts using without the family knowing, but he or she can't continue to get high without the family enabling it, either subconsciously or overtly. This is why it's important that we keep spreading our message of how the family is accountable in their loved one's addiction – and subsequent recovery attempt."
In recent years, Family First Intervention has seen a disproportionately high number of calls for individuals struggling with heroin or opioid addiction, a problem that's currently plaguing the country and has caught the attention of news outlets and even the White House.
Since 2008, Family First Intervention not only sets up and leads interventions for these struggling individuals and their families, but the counseling group also helps substance abusers find an appropriate treatment program thereafter. This process includes personally reviewing a client's health insurance plan to see which facilities accept his or her benefits, and then making a professional referral.
Family First primarily stages interventions and works with clients suffering from drug abuse and alcoholism, but the group also offers intervention services to those addicted to gambling, sex, food, hoarding and even people with eating disorders. It's important to get the entire family to participate in the intervention, not just one or two members. The intervention's focus is not on the substance or "escape" of choice, but on what the person is doing or not doing with his or her life as a result of the addiction. The ultimate goal of the intervention is to convince the loved one into being willing to accept treatment for the addiction.
Family First Intervention is based in Arizona, but has a national presence thanks to its talented core of intervention counselors, who can travel to any state. To learn more about the company or to make an intervention inquiry, please visit https://family-intervention.com/.