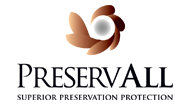 Branchburg, NJ (PRWEB) March 18, 2016
PreservALL (http://www.preservall.com/), the company using Intercept Technology™ to protect everything from wedding dresses to fragile documents, guns to tapestries, is pleased to announce made-in-America storage bags.
"Our fabric-based storage products for garments, wedding dresses, shoes and handbags are made at our Houston, Texas facility. Our poly-type bags are manufactured in both California and Maine," said PreservALL company partner Chris Della Valle. "Having locally-made products is very important to us since it enables us to personally oversee the quality during the production phase and quickly increase supply to meet demand when necessary. Additionally, having local facilities means we can hire and support more Americans by giving them jobs. With local production, our clients are assured of high American quality standards and ethical treatment of our employees."
PreservALL offers one of the world's most advanced protective materials. Easy to use, flexible and durable, PreservALL bags protect documents, fabrics, digital data and more from ultraviolet rays, oxidation, dust, mildew and other components that cause deterioration. The secret is Intercept Technology.
"Intercept Technology," says Chris, "was developed just 25 years ago, but has already made a significant impact around the world. Not only does it offer superior protection against elemental damage, it is easy to apply it to storage bags of all sizes. Bags with Intercept Technology have been used for something as small of as a CD disk with wedding photos to bags for transporting car parts. It is eco-friendly, does not leave a residue and can be fully recycled."
PreservALL looks forward to developing and retailing more products in their local facilities. To learn more about PreservALL, visit https://preservall.com/about_us and https://preservall.com/Shop-Now.
About PreservAll
We offer preservation and corrosion prevention packaging and storage products for garments, firearms, documents, quilts/tapestries, hunting and camping equipment, coins, antiques and collectables. Our products use Intercept Technology™, an environmentally friendly technology that does not coat items or leave detectable deposits on items it protects. Intercept is not a VCI (volatile corrosion inhibitor). Intercept is a reactive technology unlike other products that work passively. Intercept absorbs and neutralizes corrosive gasses that lead to corrosion and breakdown of materials such as fabrics, ferrous and non-ferrous metals, stamps, comic books, documents and anything else affected by atmospheric degradation.
Contact Details:
Mr. Chris Della Valle
600 Kenrick Dr., Suite C-40
Houston, TX 77060
Ph: (713) 822-9040
Fax: 908-526-0007
Source: PreservAll
###