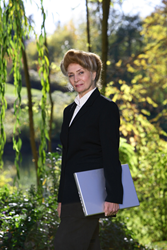 Grants Pass, OR (PRWEB) March 18, 2016
Every government entity in the world, from rural villages in Central America, to cities, counties, water districts, states and the federal government in the United States, must make water their No. 1 priority. That, according to water advocate and radio host Sharon Kleyne, should be the lesson learned from the recent Flint, Michigan, water crisis. Safe, abundant and affordable water, says Kleyne, is essential for human health and survival. In addition, without reliable water, economic development is impossible.
Kleyne will discuss the lessons from the Flint, MI, water crisis on the Sharon Kleyne Hour™ Power of Water® radio show of Feb. 21, 2016. The globally syndicated, education oriented show is heard weekly on VoiceAmerica (Health and Wellness, and Variety Channels) and Apple iTunes. For podcasts of past shows, go to http://www.voiceamerica.com/show/2207/the-sharon-kleyne-hour
Sharon Kleyne Hour® Power of Water® is sponsored by Bio-Logic Aqua® Research Water Life Science®, founded by Kleyne and specializing in fresh water, the atmosphere, body surface evaporation, dehydration and education. The Research Center's signature product is Nature's Tears® EyeMist® for dry eye.
The Flint situation, according to Kleyne, was caused by mostly well meaning people trying to save money in a city with major financial problems. It was a case of many small errors compounding into a giant scandal. The city believed it could save $15 to $20 million a year by switching from Lake Huron water purchased from Detroit, to water drawn from their own Flint River and run through a local purification plant.
There were several problems with the plan, according to Kleyne. Most obvious was that Flint River water, while just as safe as Lake Huron water, had a slightly lower pH, making it slightly acidic. This could have been corrected with an expenditure of less than $100 a day by the purification plant. Because of this slight acidity, the water become corrosive to the aging iron and lead pipes in the city's many older houses. Corroded iron turns water orange. Corroded lead is highly toxic, especially to children.
The water was safe when it left the purification plant, Kleyne points out. However, in many homes, it was no longer safe when it came out of the tap. Many news organizations, says Kleyne, fail to understand that there was no detectable lead in the water at the purification plant.
A bigger problem, according to Kleyne, is that unless there is a crisis, water just isn't very important to most politicians, who are usually more worried about pavement than water. In Michigan, everyone involved is now pointing their finger at someone else. Although the buck stops with Michigan's Republican Governor, says Kleyne, the Governor has become a scapegoat for the heavily Democratic Flint government, which is also at fault.
Very few government entities in the United States, according to Kleyne, have an adequate water policy and the U.S. government has no water policy at all. California comes closest but their vast aqueduct and reservoir system depends on the constant importation of water and can't handle an extended drought. In recent years, however, several Southern California water districts have turned to recycling used water rather than constantly importing new water.
An example of a successful national water policy, says Kleyne, is the tiny Island nation of Singapore. Despite being the world's second most densely populated nation (after Monaco), Singapore has gone from being 100 percent dependent on water from Malaysia, to virtual water independence. Singapore's strong commitment to water recycling technology, Kleyne noted, has virtually eliminated the need to import water.
While the Flint problem may be temporarily alleviated, Kleyne concludes, the nation's extreme vulnerability remains. The irony is that with a well planned national policy, there should be more than enough safe and affordable water for drinking, sanitation, cooking, agriculture, lawns, transportation, recreation and industry, even with climate change, global drought and an occasional disaster.
© 2016 Bio-Logic Aqua® Research Water Life Science®. All rights reserved.