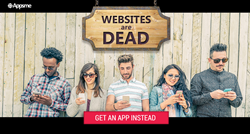 Apps have really taken over and we want every small business to be able to create an app that will deliver great user experience and keep their customers returning- Nick Barnett, CEO at Appsme.com
London, United Kingdom (PRWEB UK) 21 March 2016
In this digital era, business owners are trying to build stronger relationships with their customers, in order to increase repeat business and boost their customer base. Many big brands are abandoning their websites altogether, and focussing on their mobile apps instead. Appsme is trying to ensure that small businesses keep up with this growing trend, and it is on a mission to help small businesses 'go mobile'.
Improving brand identity and customer communication are key to helping small businesses to grow, and when it comes to customer engagement, mobile apps offer users a personalised experience. Businesses can share useful information, promotions and loyalty schemes with their customers, via the app's push notification feature, rather than sending them an email.
Clare Singleton, owner of The Granary Spa based in Ashford Kent, created her app with the help of an Appsme Guru and her app is free for her customers to use. Clare has now ditched her old printed loyalty cards and launched a digital loyalty scheme instead via her app. She no longer has to deal with all the paper work and the cost of printing the cards anymore. Of course there is no longer the issue of customers losing their cards either.
Appsme is currently running a contest, which offers small business owners the opportunity to get an upgrade to a Pro Plan App, for a year, (worth £960). To enter:
1. Like the Appsme Facebook post about the contest.
2. Visit Appsme.com and create an app.
3. Start promoting your app, and get people to download it.
Or
1. Follow Appsme on Twitter and tweet using #getanapp.
2. Visit Appsme.com and create an app.
3. Start promoting your app, and get people to download it.
The owner of the app with the highest number of downloads, by 11th April 2016, will get an upgrade.
Only apps created on or after 21st March 2016 will qualify for entry.
The contest ends on 11th April 2016 at 11:59 PM (GMT). The result of the contest will be announced on 12th April 2016.
About Appsme
Appsme hopes to empower brands to create their own mobile apps. Created specifically with smaller businesses in mind, it makes it simple for them to share useful information, events and loyalty schemes with their customers.
Appsme aims to be the first port of call for small businesses looking to be different and stand out against their competitors. It helps them do this by providing modern, informative apps, which are simple and user-friendly