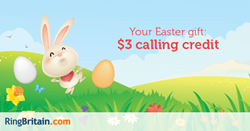 Atlanta, GA (PRWEB) March 20, 2016
For British expats, Easter celebration starts earlier, because RingBritain.com offers them two special gifts: $3 bonus, a gift designed to help them talk more with their loved ones back home and an online game, meant to entertain them.
First the egg painting game is launched, on the 21st of March, inviting customers to collect as many eggs as possible, while avoiding the happy bunnies that appear on the screen every now and then. The players must collect more than 250 points in order to enter the raffle. At the end of the 4 days, three winners will be randomly selected. The prizes will consist of $10 free Voice Credit for international calls to the UK.
The bunny becomes even more generous on March 22 and offers $3 bonus on all Voice Credit orders above $20 that are placed until March 24 using coupon EAST3R16. The bonus brings 300 extra minutes to call landlines in the UK or 102 extra minutes to call mobiles.
The Voice Credit gift can be used to call from:

any phone, through the use of local access numbers
any smartphone, as RingBritain.com offers a free app, for both iOS and Android devices, called KeepCalling
any computer, through the Web Call application.
The rates for calling UK are 1¢/min for landlines, 2.7¢/min for mobiles, 22.9¢/min for Premium numbers, and 7¢ for an SMS.
In addition to Voice Credit, RingBritain.com also offers Virtual Numbers, which are monthly subscriptions through which customers pay a low monthly fee and receive unlimited calls from another country. The people calling the Virtual Number only pay the rate of a local call. RingBritain.com offers Virtual Numbers in 38 countries.
Rinbritain.com is well appreciated by its customers who post their opinions on TrustPilot.com, a famous reviews website where RingBritain.com is evaluated as "excellent", with a 9.4 rank.
Here is what Harold A. says on TrustPilot.com: "For the past 4 years I have been using this service to communicate with family members in England, the service is excellent and also very affordable."
To find out more about RingBritain.com's newest offers, customers are invited to follow their Facebook page at Facebook.com/RingBritain.
About RingBritain.com:
RingBritain.com is an interactive website designed by KeepCalling, a global telecommunications company registered in 2002 in USA. Presently, KeepCalling provides its services to hundreds of thousands of consumers and businesses, with a focus on customer satisfaction. KeepCalling has been listed by Inc 5000 in top 20 telecom companies in the USA for the last 4 years. In 2014 the company was designated the 18th fastest growing company in the telecommunications industry in USA with a revenue increase of over 600% from 2010 to 2013.