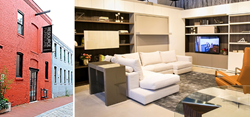 Washington is full of people who really 'get' the concept of living smarter, and opening a showroom in Georgetown was the next logical step.
Washingtom, D.C. (PRWEB) March 18, 2016
Resource Furniture, named "The biggest retailer in the multifunctional space in the U.S." by The Wall Street Journal, is bringing their expertise in smart living to a stunning new space in historic Georgetown.
The strategically located showroom at 3340 Cady's Alley will provide D.C. Metro Area developers, builders, architects, interior designers, and end-users access to the finest multifunctional and high-end Italian furniture solutions available for residential, office and contract projects. The experienced, in-house team will offer space planning and design services for a wide range of projects, from large-scale developments to single residential projects.
Resource Furniture has a well-developed and loyal following in Mid-Atlantic region, but due to the rapidly evolving D.C. housing market and the astonishing demand for space in the region, owners Ron Barth and Steve Spett felt strongly that the time was right for a physical presence in D.C.
"We've had tremendous success in the D.C. area already, but felt that in order to best meet the demand a brick-and-mortar showroom was necessary. Washington is full of people who really 'get' the concept of living smarter, and opening a showroom in Georgetown was the next logical step," said Ron Barth, president of Resource Furniture. "No other company does what we do. We're looking forward to working with everyone in D.C. who has a passion for design, sustainability and maximizing space".
The 2,100 square foot showroom will feature the latest double-duty, transforming wall beds from world-renowned Italian manufacturer Clei, along with a wide selection of multi-functional tables, space-saving seating and office solutions, which will allow the space to actually function like a 4,200 square foot showroom.
Also featured prominently in the showroom will be ConcreteWall, the award-winning line of high-resolution, photographic, tromp l'oeil wallcovering from Norwegian photographer Tom Haga, as well as hand-selected pieces from many other fine European and North American furniture designers.
# # #
ABOUT RESOURCE FURNITURE
Resource Furniture is the original – and largest - source for cutting-edge, multi-functional living systems in North America, offering the most inspired and innovative furniture solutions available in the world for more than 15 years. With showrooms in New York, Los Angeles, San Francisco, Washington D.C., Toronto, Vancouver, Calgary, and Mexico City, Resource Furniture continues to redefine and revolutionize the industry by offering the most technologically innovative, space-saving and sustainable products in the world, all of which transform any space with both form and function.
Visit resourcefurniture.com.
# # #
Press Contact:
Laura Anderson
212-753-2039
laura(at)resourcefurniture.com